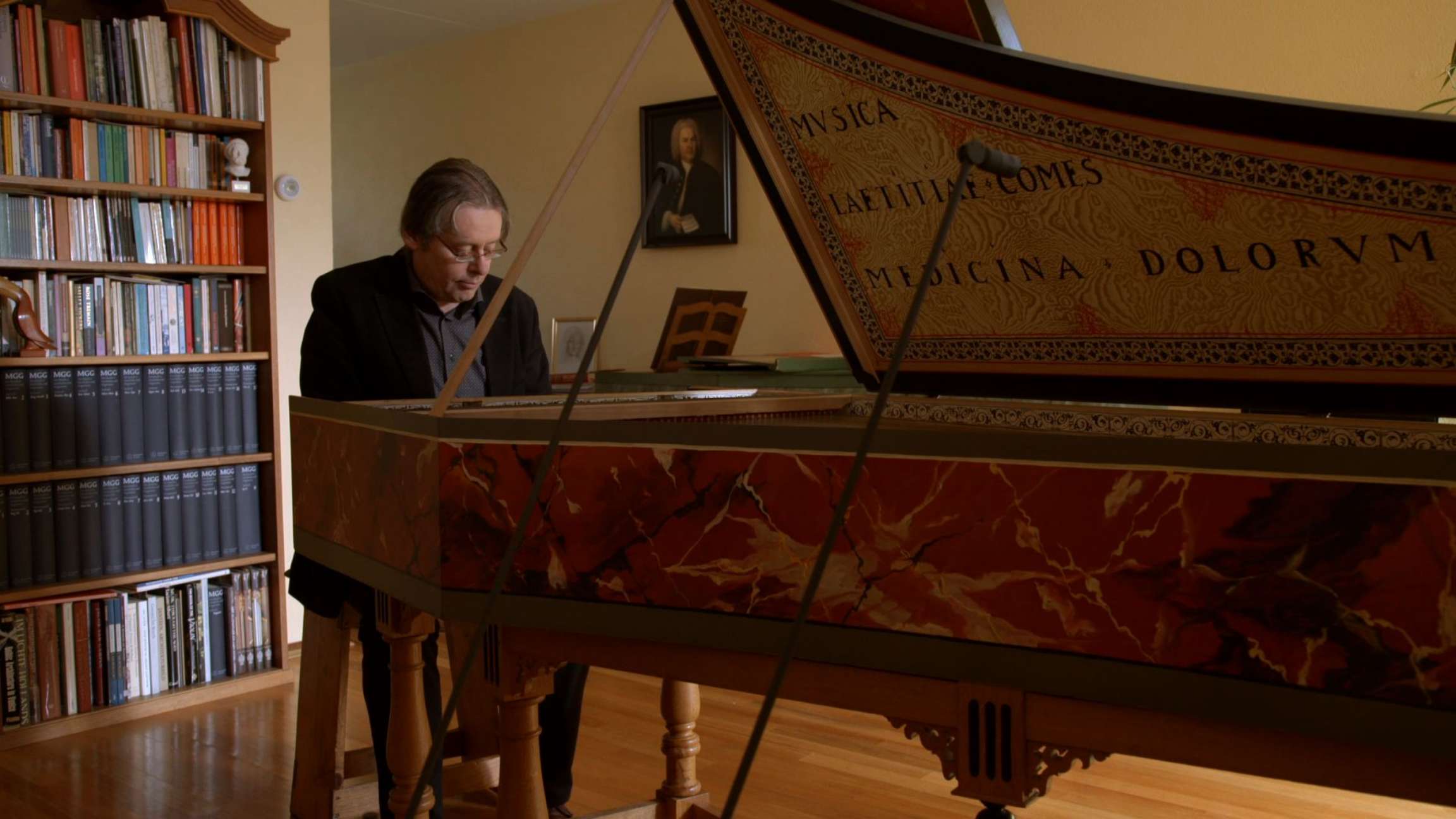 The Well-Tempered Clavier I No. 12 in F minor
BWV 857 performed by Pieter Dirksen
at home in Culemborg, the Netherlands
Story
Extra videos
Credits
Deep sorrow
Bach has created deep sorrow from which there is no escape.
The preludes and fugues in the Wohltemperirte Clavier are often opposite in character. The prelude is cautious and the fugue energetic. This piece, however, is the other way round. The melancholy atmosphere is already firmly established in the very first notes, and it remains throughout. It really seems as if the prelude is going nowhere. Although the practically unbroken series of semiquavers suggests a flowing movement, the static bass notes keep the brakes on, and even the trills hang like a millstone around the melody's neck. All attempts at brightening up are nipped in the bud. The fugue, too, tries bravely to struggle free of this oppressive atmosphere, but to no avail. Even though nearly all twelve tones of the scale are called on, sometimes to the point of desperation, none of the diversions are enough to really let the sun break through. Here, Bach has created deep sorrow from which there is no escape.
Das Wohltemperirte Clavier, BWV 846-893
Composing 48 keyboard pieces in all 24 keys was the sort of challenge Bach enjoyed. In each of the two parts of the Wohltemperirte Clavier, he brought together the musical couple prelude and fugue 24 times; twelve in minor keys and twelve in major. In the preludes, he gave free rein to his imagination, and demonstrated mathematical tours de force in the fugues. In contrast to the iron discipline Bach had to apply to his church compositions, here he could abandon himself to intellectual Spielerei without worrying about deadlines.
The first part of the Wohltemperirte Clavier dates from 1722, although it contains some music that was written in the preceding five years. There is less clarity about the history of part two. Bach compiled this second manuscript only around 1740, although once again some of the preludes and fugues it contains date from a much earlier period. Bach described the target group for this collection of pieces as follows: 'Zum Nutzen und Gebrauch der Lehr-begierigen Musicalischen Jugend, als auch dere in diesem studio schon habil seyenden besonderem ZeitVertreib' (For both the education of the industrious musical youngster and the enjoyment of those well-versed in this material').
BWV

857

Title

Prelude and fugue in F minor

Epithet

no. 12 from The Well-Tempered Clavier I

Instrument

Harpsichord

Genre

harpsichord works

Serie

Das Wohltemperirte Clavier I

Year

1722 or earlier

City

Cöthen (or Weimar?)
Supported by
Prins Bernhard Cultuurfonds
Extra videos
Credits
Release date

9 May 2014

Recording date

16 January 2014

Location

Culemborg

Harpsichordist

Pieter Dirksen

Harpsichord

Sebastián Nuñez after Johannes Ruckers, Utrecht 1996

Producer

Frank van der Weij

Film director

Jan Van den Bossche, Suédy Mauricio

Camera

Jorrit Garretsen

Music recording

Stefan Meutstege

Production assistant

Zoë de Wilde

Film editor

Suédy Mauricio, Dylan Glyn Jones

Music editor

Matthijs Ruijter, Frank van der Weij
Help us to complete All of Bach
There are still many recordings to be made before the whole of Bach's oeuvre is online. And we can't complete the task without the financial support of our patrons. Please help us to complete the musical heritage of Bach, by supporting us with a donation!