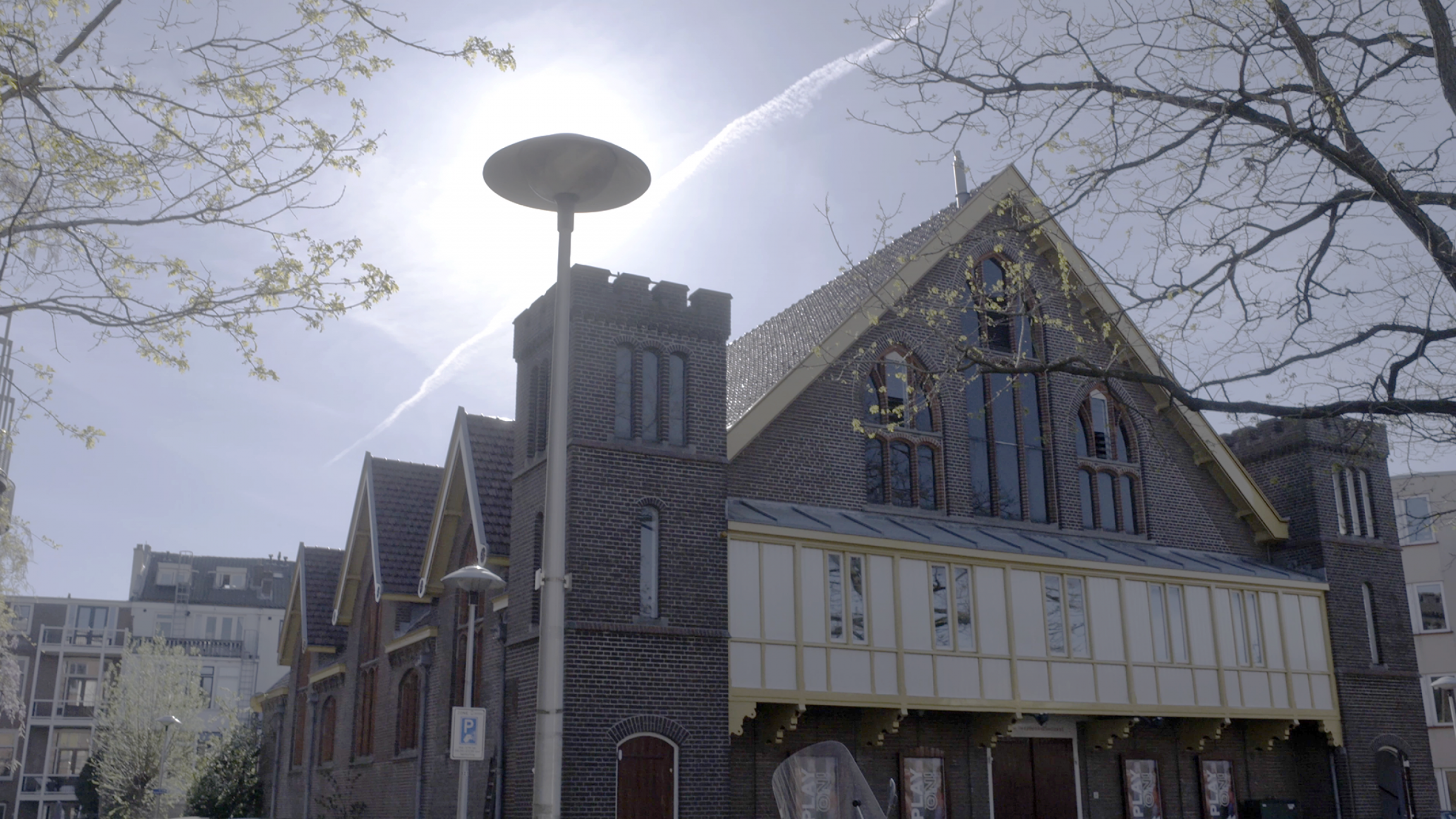 The Well-Tempered Clavier II No. 5 in D major
BWV 874 performed by Christine Schornsheim
at De Paardenkathedraal, Utrecht
Story
Extra videos
Credits
Theatre for ten fingers
Grandeur and refinement come together in a surprising couple
Like a brightly coloured peacock's tail, the prelude unfolds in a triumphant upward movement. Once at the top, we pause for a moment and hold our breath. So already in the first two bars, we immediately hear the technical trick Bach is performing. He uses two different times in parallel: flowing quasi-triplets alongside a rather 'lazy', sighing common time. Right after the repeat, we even hear the two contrasting rhythms directly above one another, which creates a slightly disjointed effect. For another striking example of this technique, see the Goldberg Variation No. 26 on this site.

While the fugue of BWV 874 is expressly traditional in structure, Bach joins his children's generation in the prelude. Here, he uses what is known as the sonata form: a work in three movements, whereby the beginning is repeated at the end. Or almost, because very soon after the opening motif is resumed the music takes a new harmonic turn. And it does so in the most radiant of keys: D major. Think trumpets and timpani.

The relatively clear prelude is followed by a complex, but surprisingly catchy fugue in stile antico, which avoids galanterie. The theme could hardly be simpler: three short repeating notes and two long ones, and then again, with a tie in the middle to keep it exciting. Bach's motto soon becomes apparent: stacking. And so the theme entries tumble over one another in a perpetuum mobile, with maximum variety in a grand architecture, for optimal dramatic effect.

WTC II
We recorded Bach's first book of Preludes and Fugues in all the keys at the homes of 24 different musicians. For this second part, performed in its entirety by Christine Schornsheim, we chose 12 very different locations in Utrecht, to celebrate the 900th anniversary of our home city.
Das Wohltemperirte Clavier, BWV 846-893
Composing 48 keyboard pieces in all 24 keys was the sort of challenge Bach enjoyed. In each of the two parts of the Wohltemperirte Clavier, he brought together the musical couple prelude and fugue 24 times; twelve in minor keys and twelve in major. In the preludes, he gave free rein to his imagination, and demonstrated mathematical tours de force in the fugues. In contrast to the iron discipline Bach had to apply to his church compositions, here he could abandon himself to intellectual Spielerei without worrying about deadlines.
The first part of the Wohltemperirte Clavier dates from 1722, although it contains some music that was written in the preceding five years. There is less clarity about the history of part two. Bach compiled this second manuscript only around 1740, although once again some of the preludes and fugues it contains date from a much earlier period. Bach described the target group for this collection of pieces as follows: 'Zum Nutzen und Gebrauch der Lehr-begierigen Musicalischen Jugend, als auch dere in diesem studio schon habil seyenden besonderem ZeitVertreib' (For both the education of the industrious musical youngster and the enjoyment of those well-versed in this material').
BWV

874

Title

Prelude en fugue in D major

Epithet

no. 5 from the Well-Tempered Clavier II

Instrument

Harpsichord

Genre

harpsichord works

Serie

Das Wohltemperirte Clavier II

Year

1739-1742

City

Leipzig
Extra videos
Credits
Release date

1 November 2022

Recording date

21 April 2022

Location

De Paardenkathedraal, Utrecht

Harpsichordist

Christine Schornsheim

Harpsichord

Bruce Kennedy, 1989 after Michael Mietke

Director, camera and lights

Gijs Besseling

Music recording

Guido Tichelman, Pim van der Lee

Music edit and mix

Guido Tichelman

Camera, lights

Danny Noordanus

Assistant music recording

Marloes Biermans

Data handling

Marieke de Blaay

Producer

Josine Olgers
Help us to complete All of Bach
There are still many recordings to be made before the whole of Bach's oeuvre is online. And we can't complete the task without the financial support of our patrons. Please help us to complete the musical heritage of Bach, by supporting us with a donation!