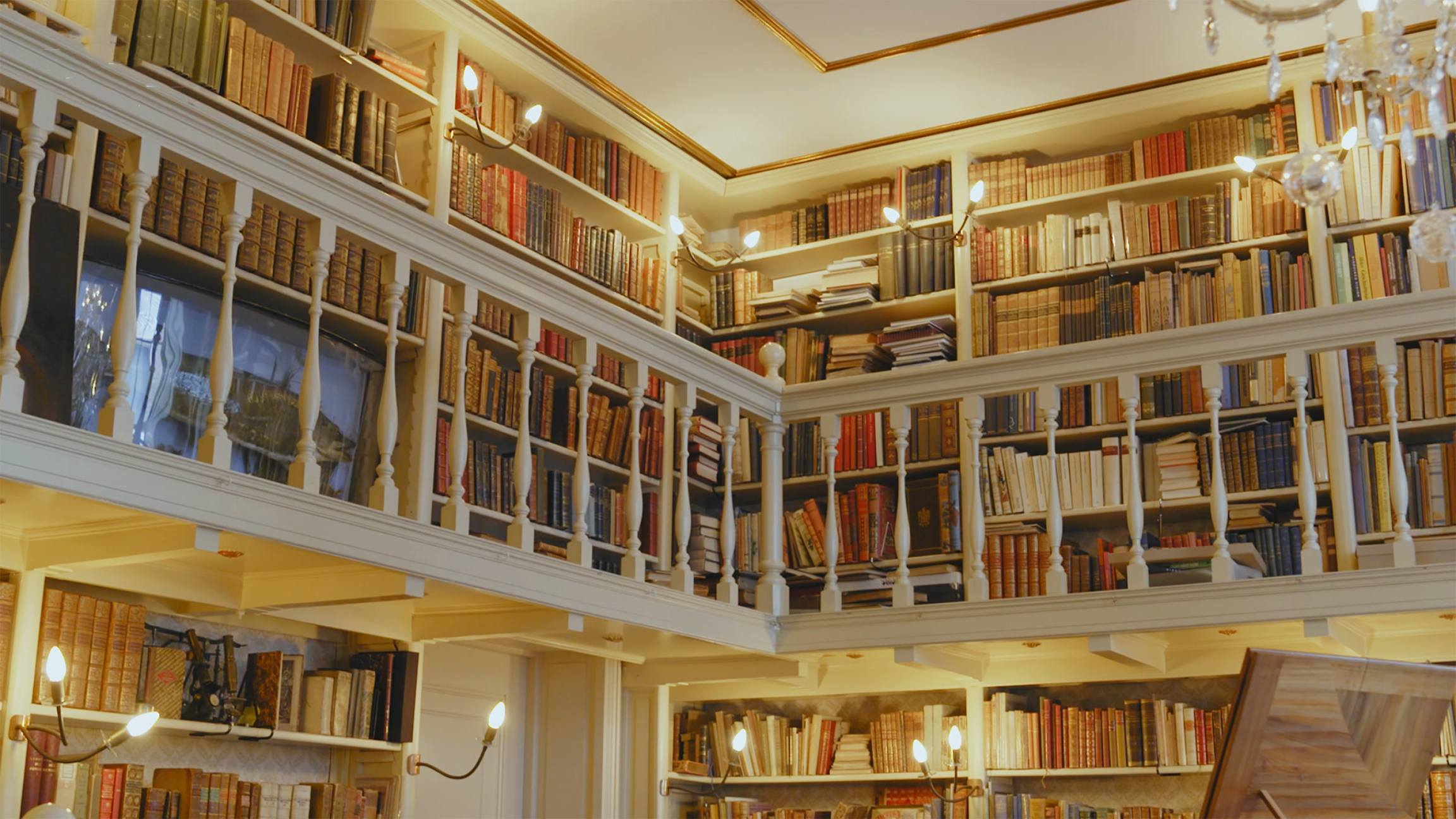 The Well-Tempered Clavier II No. 16 in G minor
BWV 885 performed by Christine Schornsheim
at Acanthus Antiquariaat, Utrecht
Story
Extra videos
Credits
Ploughing steadily on
Mathematician Bach gives a modern-day interpretation of the stile antico rules.
It was rare for Bach to notate a tempo above his keyboard music. It simply wasn't necessary, as anyone with a bit of taste felt intuitively how quickly a sarabande or courante should be played. Or how a certain rhythm placed a work in a certain genre. So when we do come across such an indication - such as the 'Largo' here, meaning 'broad' - it means that Bach wanted to avoid possible confusion. The 'punctuated' or springy rhythm of this prelude would fit perfectly in a majestic 'French' overture, for example. But not here, in this number 16 from the Wohltemperirte Clavier II.
Christine Schornsheim describes this prelude as 'despairing, melancholic and strict'. That's quite a contrast to the light fare of BWV 884 in G major. Interpreted broadly (largo), the rhythm in this prelude stretches time. And Bach further reinforces this swell through tied dissonants and surprising harmonic steps.
The fugue that forms its counterpart is just as sober, and even academic in character. The theory Bach wants to demonstrate here actually sounds like higher maths to most modern ears. It can be summed up as follows: if each fugue theme is invented in such a way it can be manipulated according to the rules of counterpoint, then Bach tests out some of those rules with 'forbidden' combinations, knowing that this lends expressivity to a dry fugue. What we hear is a sturdy fugue set to an intriguing theme - almost a singalong tune. And keep your ears open, because around three-quarters of the way through something really amazing happens. The skies clear as the four parts suddenly stick together in pairs: a result of Bach's ingenious construction, before the movement halts twice on the way to the climax. A powerful rhetorical gesture.
WTC II
We recorded Bach's first book of Preludes and Fugues in all the keys at the homes of 24 different musicians. For this second part, performed in its entirety by Christine Schornsheim, we chose 12 very different locations in Utrecht, to celebrate the 900th anniversary of our home city.
Das Wohltemperirte Clavier, BWV 846-893
Composing 48 keyboard pieces in all 24 keys was the sort of challenge Bach enjoyed. In each of the two parts of the Wohltemperirte Clavier, he brought together the musical couple prelude and fugue 24 times; twelve in minor keys and twelve in major. In the preludes, he gave free rein to his imagination, and demonstrated mathematical tours de force in the fugues. In contrast to the iron discipline Bach had to apply to his church compositions, here he could abandon himself to intellectual Spielerei without worrying about deadlines.
The first part of the Wohltemperirte Clavier dates from 1722, although it contains some music that was written in the preceding five years. There is less clarity about the history of part two. Bach compiled this second manuscript only around 1740, although once again some of the preludes and fugues it contains date from a much earlier period. Bach described the target group for this collection of pieces as follows: 'Zum Nutzen und Gebrauch der Lehr-begierigen Musicalischen Jugend, als auch dere in diesem studio schon habil seyenden besonderem ZeitVertreib' (For both the education of the industrious musical youngster and the enjoyment of those well-versed in this material').
BWV

885

Title

Prelude and fugue in G minor

Epithet

no. 16 from the Well-Tempered Clavier II

Instrument

Harpsichord

Genre

harpsichord works

Serie

Das Wohltemperirte Clavier II

Year

1739/1740

City

Leipzig
Extra videos
Credits
Release date

21 March 2023

Recording date

24 September 2022

Location

Acanthus Antiquariaat, Utrecht

Harpsichordist

Christine Schornsheim

Harpsichord

Bruce Kennedy 1989, after Michael Mietke

Director, camera and lights

Gijs Besseling

Music recording

Guido Tichelman, Pim van der Lee

Music edit and mix

Guido Tichelman

Camera

Danny Noordanus

Assistant music recording

Marloes Biermans

Producer

Marieke de Blaay
Help us to complete All of Bach
There are still many recordings to be made before the whole of Bach's oeuvre is online. And we can't complete the task without the financial support of our patrons. Please help us to complete the musical heritage of Bach, by supporting us with a donation!