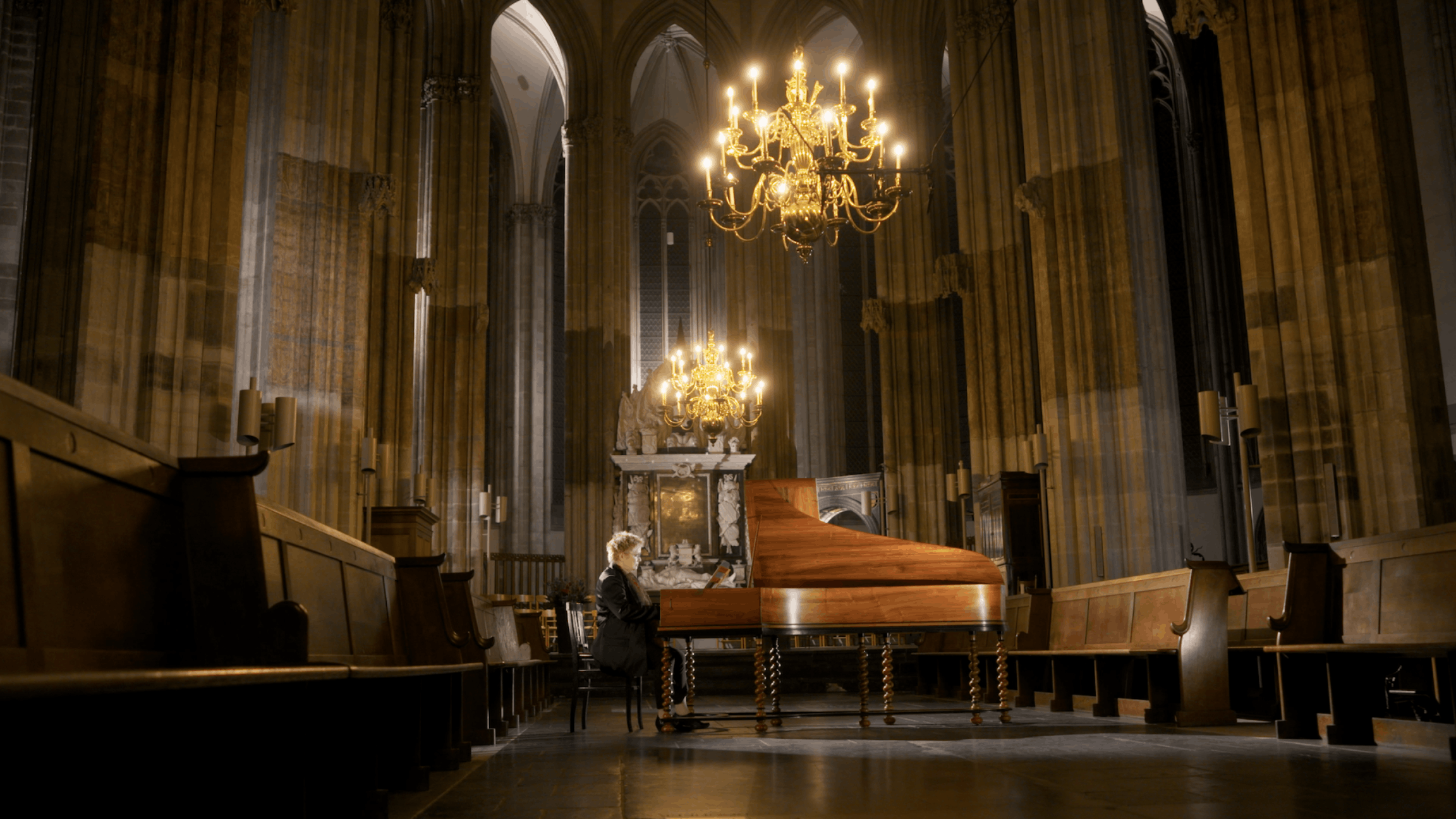 The Well-Tempered Clavier II No. 22 in B-flat minor
BWV 891 performed by Christine Schornsheim
at the Dom Church in Utrecht
Story
Extra videos
Credits
Deep in the grooves
Bach transports a well-wrought theme to an ecstatic release.
Sometimes Bach keeps it light, but now and then he goes all out for heavy. And this pair of works in B-flat minor, a 'difficult' key with five flats, digs very deep. It is even viewed by some as the highlight of the whole second Wohltemperirte Clavier: Bach's most substantial three-part sinfonia as the prelude, followed by an overwhelming fugue on a productive theme.
The prelude feels almost like a trio sonata, due to the role of the bass. The supporting continuo part only gets to play the full five-bar theme twice. Above this root, the two upper parts exchange ideas to their heart's content, particularly in the middle section. Surprisingly enough, for once the soprano does not enter with the theme, but provides ornamentation, directly over the exposition in the alto.
The fugue explores all the variations of the stretto technique – whereby two or more parts do not politely wait their turn, but interrupt one another, as it were. As this does not work for every fugue subject (usually such an overlap would lead to messy clashes), Bach puzzled out a theme-in-blocks, filled with intriguing leaps and tense pauses.
The most striking stretto [passage where the various parts interrupt one another in a canon] comes in the closing phase, when Bach pairs off the four parts and juxtaposes two against two. Suddenly, the movement is only half as busy, and along with the calmness you sense a restrained tension. It is uncertain what is to come. On the long journey to that climax, the path is cleared for both the theme and the countertheme. Each appear in their own exposition and in separate stretti, and they are later also used inversus – upside down. As if all that wasn't enough, just listen to the lines full of half intervals that snake through the musical web. So there's a lot to mull over, and Bach must have thought so too, as in between all these complex arrangements of the thematic material he inserted relaxing 'episodes' – short sections where the music is freed up for a moment, so that player and listener can muster courage for the grand sequel.
WTC II
We recorded Bach's first book of Preludes and Fugues in all the keys at the homes of 24 different musicians. For this second part, performed in its entirety by Christine Schornsheim, we chose 12 very different locations in Utrecht, to celebrate the 900th anniversary of our home city.
Das Wohltemperirte Clavier, BWV 846-893
Composing 48 keyboard pieces in all 24 keys was the sort of challenge Bach enjoyed. In each of the two parts of the Wohltemperirte Clavier, he brought together the musical couple prelude and fugue 24 times; twelve in minor keys and twelve in major. In the preludes, he gave free rein to his imagination, and demonstrated mathematical tours de force in the fugues. In contrast to the iron discipline Bach had to apply to his church compositions, here he could abandon himself to intellectual Spielerei without worrying about deadlines.
The first part of the Wohltemperirte Clavier dates from 1722, although it contains some music that was written in the preceding five years. There is less clarity about the history of part two. Bach compiled this second manuscript only around 1740, although once again some of the preludes and fugues it contains date from a much earlier period. Bach described the target group for this collection of pieces as follows: 'Zum Nutzen und Gebrauch der Lehr-begierigen Musicalischen Jugend, als auch dere in diesem studio schon habil seyenden besonderem ZeitVertreib' (For both the education of the industrious musical youngster and the enjoyment of those well-versed in this material').
BWV

891

Title

Prelude en fugue in B flat minor

Epithet

no. 22 from the Well-Tempered Clavier II

Instrument

Harpsichord

Genre

harpsichord works

Serie

Das Wohltemperirte Clavier II

Year

1739–1742

City

Leipzig
Extra videos
Credits
Release date

15 June 2023

Recording date

15 March 2022

Location

Dom Church Utrecht

Harpsichordist

Christine Schornsheim

Harpsichord

Bruce Kennedy, 1989 after Michael Mietke

Director, camera and lights

Gijs Besseling

Music recording

Guido Tichelman, Pim van der Lee

Music edit and mix

Guido Tichelman

Camera, lights

Danny Noordanus

Camera assistant

Abba Miltenburg

Data handling

Stefan Ebels

Assistant music recording

Marloes Biermans

Producer

Josine Olgers, Marieke de Blaay
Help us to complete All of Bach
There are still many recordings to be made before the whole of Bach's oeuvre is online. And we can't complete the task without the financial support of our patrons. Please help us to complete the musical heritage of Bach, by supporting us with a donation!