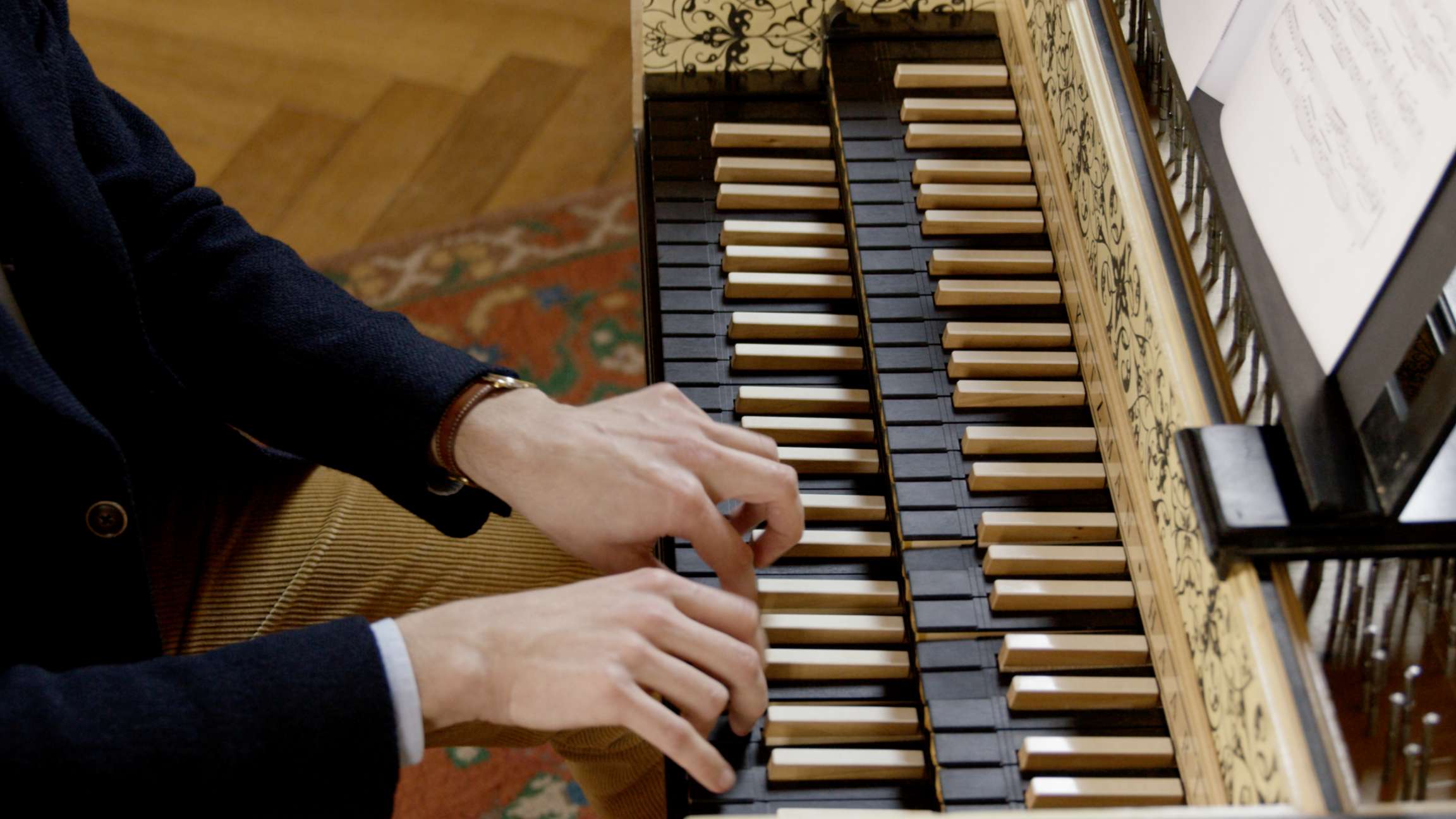 Six little preludes
BWV 933-938 performed by Benjamin Alard
Paushuize, Utrecht
Menu
BWV 933 (C major)
BWV 934 (C minor)
BWV 935 (D minor)
BWV 936 (D major)
BWV 937 (E major)
BWV 938 (E minor)
Story
Extra videos
Credits
Mini Wohltemperirte Clavier
Teaching material as preparation for larger works
Here, we hear the everyday Bach. He must always have had a lot of smaller and simpler pieces scattered about at home, as a source of inspiration for all sorts of purposes. This set of six preludes is a case in point. Although they were not kept as a set in sources from Bach's own time, the reference to "6 Praeludien für Anfänger auf dem Clavier" in 1790 in the estate of Bach's son Carl Philip Emmanuel does point in that direction. And one of Bach's last pupils, Johann Christiann Kittel (1732-1809), had a manuscript he had copied himself of these six preludes "for beginners on the keyboard". So the set served as teaching material for Bach's pupils. It almost seems to be a preparation for the Wohltemperirte Clavier, with a prelude in C major and minor, D major and minor, and E major and minor. It also involves four different time signatures and various types of style, such as the Italian trio sonata of BWV 936 with its characteristic two melody lines above a roving bass. At the same time, Bach drew on the reservoir of this type of smaller piece for composing his larger works. For instance, the Prelude in C minor, BWV 934 is clearly the twin of the courante from the French suite in the same key signature, BWV 813. One ended up in the suite and the other in this set, along with five other versatile little miniatures.
BWV

933-938

Title

Six little preludes

Instrument

harpsichord

Genre

harpsichord works

Year

1717-1723

City

Köthen?
Extra videos
Credits
Release date

11 March 2016

Recording date

1 March 2015

Location

Paushuize, Utrecht

Harpsichordist

Benjamin Alard

Harpsichord

Joel Katzman after Joannes Couchet, ca. 1650.

Film director and editor

Lucas van Woerkum

Music recording producers

Guido Tichelman, Bastiaan Kuijt

Camera

Robert M. Berger

Camera assistants

Stef van Wijk, Uriel Matahelumual

Grip

Jeroen de Haan, Thijme de Zoet

Lights

Zen Bloot

Best boy

Thomas Jeninga

Interview

Onno van Ameijde

Producer concert

Erik van Lith

Producer film

Jessie Verbrugh

Acknowledgements

Lex Martens and Provincie Utrecht
Help us to complete All of Bach
There are still many recordings to be made before the whole of Bach's oeuvre is online. And we can't complete the task without the financial support of our patrons. Please help us to complete the musical heritage of Bach, by supporting us with a donation!