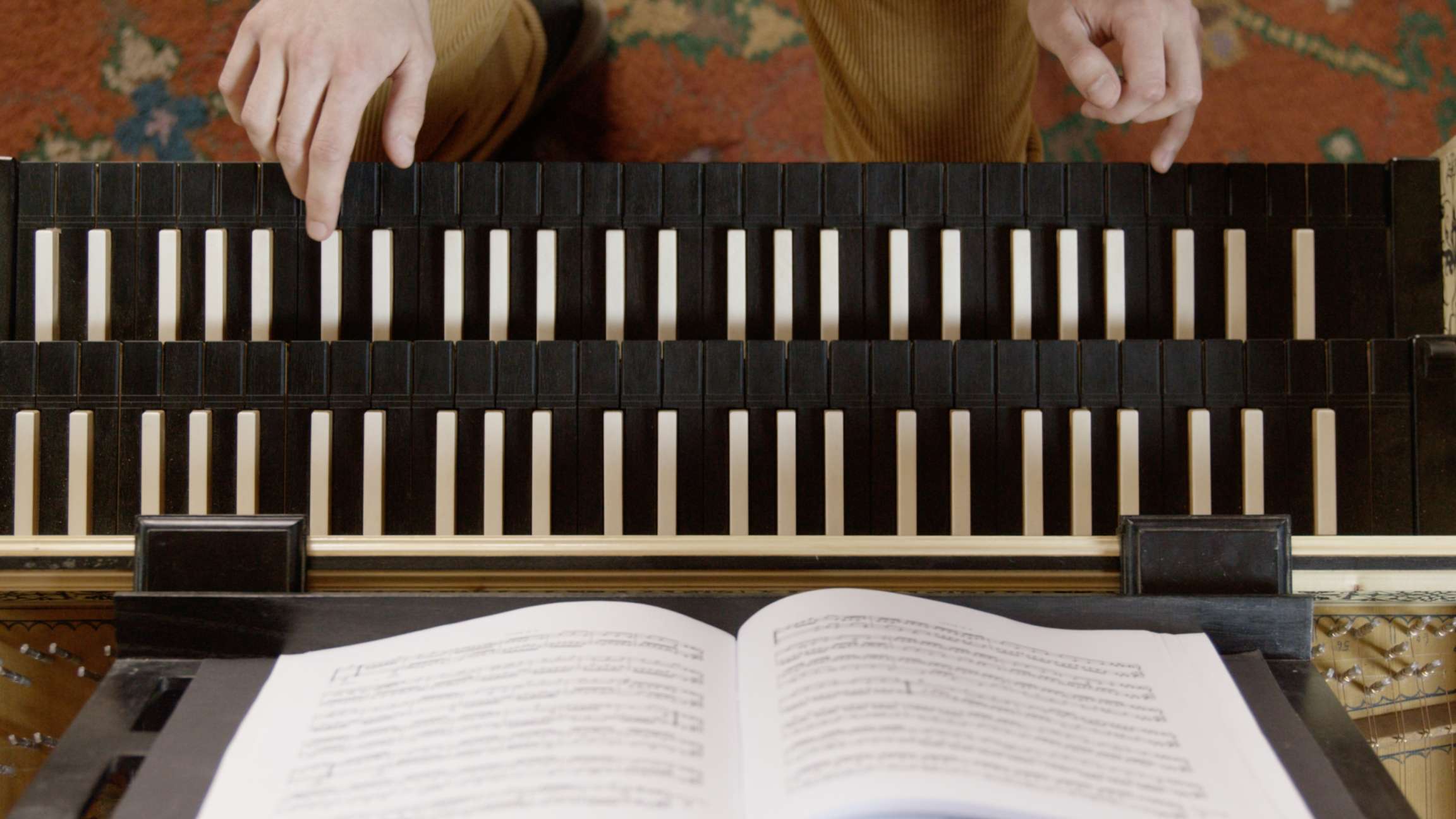 Five little preludes
BWV 939-943 performed by Benjamin Alard
Paushuize, Utrecht
Menu
1. BWV 939 (C major)
2. BWV 940 (D minor)
3. BWV 941 (E minor)
4. BWV 942 (A minor)
5. BWV 943 (C major)
Story
Extra videos
Credits
Gobstoppers for beginners
Bach gave his pupils something to measure themselves against
Bach composed various works for the purpose of teaching, and he obviously enjoyed challenging beginners. In the teaching booklets for his eldest son Wilhelm Friedemann and his wife Anna Magdalena, he collected all sorts of compositions, some of which he wrote himself. In both cases, the pieces are tailored to the level of the pupil concerned, without making any concessions to musicality.

The Five little preludes are also presumed to have originated for teaching purposes, although it is not clear when Bach wrote them or for whom. The originals have been lost, while the copies date from 1726 at the earliest. From this, we can deduce that the pieces could have been composed as early as 1717, but possibly also twenty years later. The last Prelude is said to have been written by Bach in Arnstadt already. And there is some debate about whether Bach actually wrote these five preludes himself. However, few people still doubt it, if only for the fact that the pieces are included in the extremely popular beginners' book published by Hans Bischoff in the second half of the nineteenth century, Kleine Präludien und Fughetten.

The mastery of the little pieces lies in their combination of apparent simplicity and musical richness. They can be played very nicely with little technical prowess, whereas when played by a professional they reveal a surprising depth. This allows the pieces to be used at different stages of the learning process, thus revealing different shades of colour every time, like a gobstopper.
BWV

939-943

Title

five little preludes

Instrument

harpsichord

Genre

harpsichord works

Year

1703 (BWV 943) and between 1717 and 1739

City

Arnstadt/Köthen/Leipzig
Extra videos
Credits
Release date

12 June 2015

Recording date

1 March 2015

Location

Paushuize, Utrecht

Harpsichordist

Benjamin Alard

Harpsichord

Joel Katzman after Joannes Couchet, ca. 1650.

Film director and editor

Lucas van Woerkum

Music recording producers

Guido Tichelman, Bastiaan Kuijt

Camera

Robert M. Berger

Camera assistants

Stef van Wijk, Uriel Matahelumual

Grip

Jeroen de Haan, Thijme de Zoet

Lights

Zen Bloot

Best boy

Thomas Jeninga

Interview

Onno van Ameijde

Producer concert

Erik van Lith

Producer film

Jessie Verbrugh

Acknowledgements

Lex Martens and Provincie Utrecht
Help us to complete All of Bach
There are still many recordings to be made before the whole of Bach's oeuvre is online. And we can't complete the task without the financial support of our patrons. Please help us to complete the musical heritage of Bach, by supporting us with a donation!