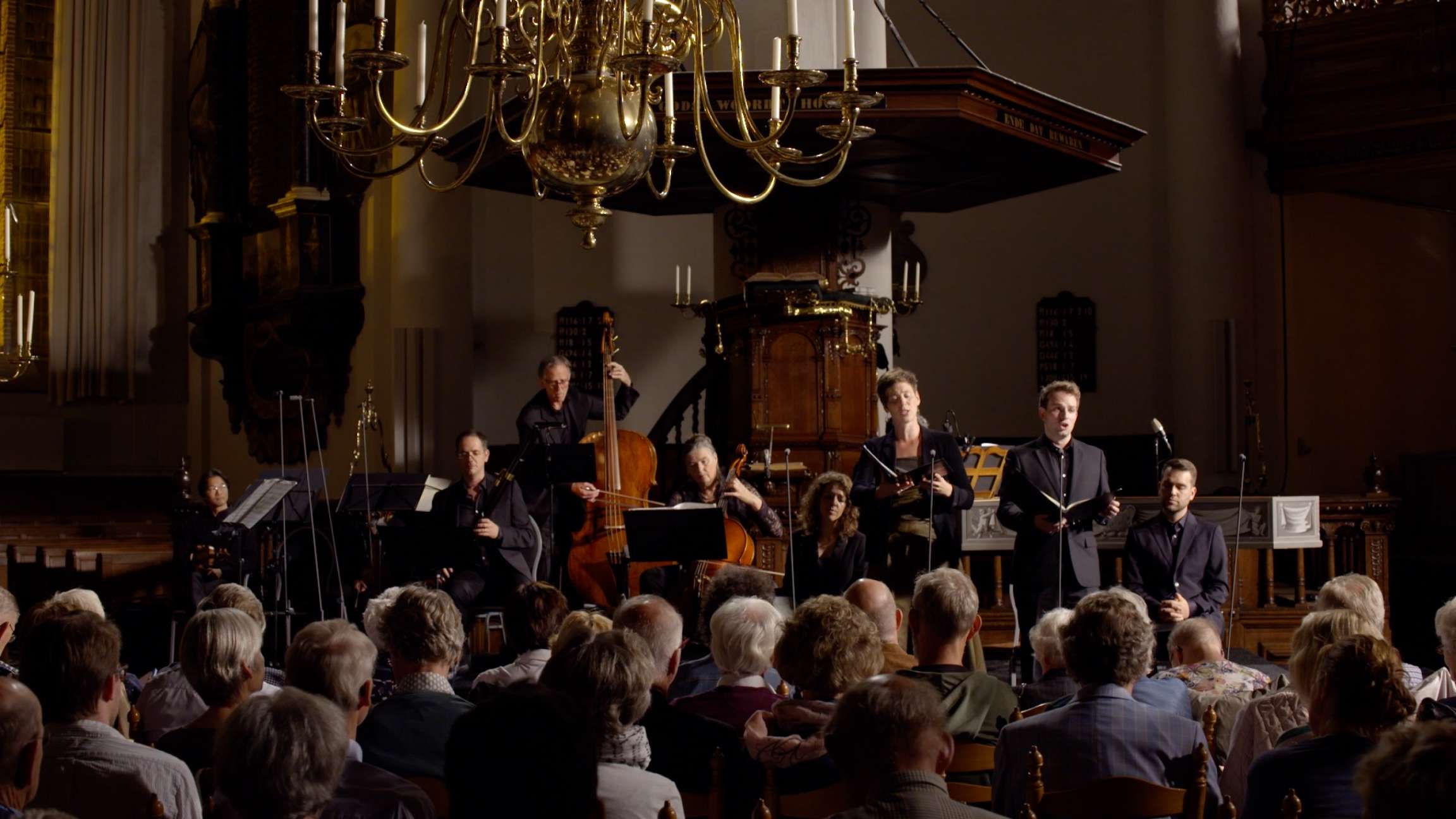 Mein Gott, wie lang, ach lange
BWV 155 performed by the Netherlands Bach Society
conducted by Shunske Sato
Groote Kerk, Maassluis
Menu
1. Mein Gott, wie lang (Rezitativ)
2. Du mußt glauben (Arie)
3. So sei, o Seele (Rezitativ)
4. Wirf, mein Herze (Arie)
5. Ob sich, anließ (Choral)
Cantata by Franck
A productive collaboration in Weimar.
The courtiers in Weimar would find it strange that we call Mein Gott, wie lang, ach lange a cantata by Johann Sebastian Bach. They knew it as a cantata by Salomo Franck (1659-1725), in this case set to music by Herr Bach. After his university education, Franck – who was born and bred in Weimar – received a position at the court, and wrote poetry as a sideline. He published this text in 1715, in his Evangelische Andachts-Opfer: a book of "geistlichen Cantaten" for the whole church year. Around that time, Franck was a high official and chief librarian, and was therefore much higher in rank than Bach.

The fact that Bach set at least fifteen of Franck's cantata texts to music in Weimar, between 1714 and 1716, may not necessarily have been his own choice. Yet it did turn out to be a good match, and Bach used other texts by Franck later on in Leipzig, as well. After first using older forms of poetry, Franck went on to write cantatas consisting of recitatives and arias. Bach subsequently made his own choices. Sometimes he turned an "aria" text into an opening chorus, and sometimes he left it as a solo aria or a duet, as in BWV 155. Franck's metaphorical yet simple texts provided Bach with plenty of musical opportunities.

Mein Gott, wie lang, ach lange is one of just two cantatas in Franck's book that opens with a recitative. Bach avoids a dry beginning by turning it into an expressive recitative with orchestral accompaniment, which conveys a feeling of incessant suffering. In the other movements, too, he keeps adding special touches to Franck's text: an unexpected run in the basso continuo in the recitative for the bass, a contrast between jumping and sustained notes in the soprano aria… and of course the colourful solo for bassoon in the duet , which was written for a talented bassoon player in the court ensemble.
BWV

155

Title

Mein Gott, wie lang, ach lange

Genre

cantatas

Year

1716

City

Weimar

Lyricist

Salomo Franck

Occasion

second Sunday after Epiphany

First performance

19 January 1716
Vocal texts
Original
1. Rezitativ (Sopran)
Mein Gott, wie lang, ach lange?
Des Jammers ist zuviel!
Ich sehe gar kein Ziel
der Schmerzen und der Sorgen.
Dein süßer Gnadenblick
hat unter Nacht und Wolken sich verborgen,
die Liebeshand zieht sich, ach! ganz zurück;
um Trost ist mir sehr bange.
Ich finde, was mich Armen täglich kränket,
das Tränenmaß wird stets voll eingeschenket,
der Freudenwein gebricht;
mir sinkt fast alle Zuversicht.

2. Arie (Alt, Tenor)
Du mußt glauben, du mußt hoffen,
du mußt Gott gelassen sein!
Jesus weiß die rechten Stunden,
dich mit Hülfe zu erfreun.
Wenn die trübe Zeit verschwunden,
steht sein ganzes Herz dir offen.

3. Rezitativ (Bass)
So sei, o Seele, sei zufrieden!
Wenn es vor deinen Augen scheint,
als ob dein liebster Freund
sich ganz von dir geschieden;
wenn er dich kurze Zeit verläßt,
Herz! glaube fest,
es wird ein kleines sein,
da er für bittre Zähren
den Trost- und Freudenwein
und Honigseim für Wermut will gewähren!
Ach! denke nicht,
daß er von Herzen dich betrübe,
er prüfet nur durch Leiden deine Liebe;
er machet,
daß dein Herz bei trüben Stunden weine,
damit sein Gnadenlicht
dir desto lieblicher erscheine;
er hat, was dich ergötzt,
zuletzt zu deinem Trost dir vorbehalten;
drum laß ihn nur, o Herz, in allem walten!

4. Arie (Sopran)
Wirf, mein Herze, wirf dich noch
in des Höchsten Liebesarme,
daß er deiner sich erbarme.
Lege deiner Sorgen Joch,
und was dich bisher beladen,
auf die Achseln seiner Gnaden.

5. Choral
Ob sichs anließ, als wollt er nicht,
laß dich es nicht erschrecken,
denn wo er ist am besten mit,
da will ers nicht entdecken.
Sein Wort laß dir gewisser sein,
und ob dein Herz spräch lauter Nein,
so laß doch dir nicht grauen.



Translation
1. Recitative
My God, how long, ah! how long?
There is too much distress,
no end do I see
to pain and sorrow!
Thy sweet look of grace
has hidden itself beneath night and clouds,
the hand of love is now, alas, quite withdrawn,
I am most anxious for comfort.
I find, to this wretch's daily anguish,
that my cup of tears is ever replenished,
the wine of joy is lacking;
my confidence has all but gone.

2. Aria
You must believe, you must hope,
you must have trust in God!
Jesus knows the right hour
to gladden you with His help.
When this troubled time is over,
all His heart shall be open for you.

3. Recitative
So be, O soul, content!
though it might seem to your eyes
that your dearest friend
had quite parted from you;
if He leaves you for a short time,
heart! be steadfast in your belief
that it will not be long
before He brings wine of joy and comfort
for bitter weeping,
and for wormwood running honey!
Ah! do not think
that He delights in afflicting you,
He is only testing your love through suffering,
He causes your heart to weep in sad times,
so that His gracious light
might appear to you more lovely;
He has reserved what delights you,
in the end,
for your consolation;
so let Him prevail in all things, O heart!

4. Aria
Throw yourself, my heart, throw yourself
into the Highest's loving arms,
that He may have mercy upon you.
Lay the burden of your sorrows
and all that till now has oppressed you
on the shoulders of His mercy.

5. Chorale
Though it may at first seem He is not willing,
let that not dismay you;
for where He is most beside you,
He is wont not to reveal it.
Be more certain of His Word,
and though your heart may say only 'No',
do not be filled with dread.
Credits
Release date

3 September 2020

Recording date

21 September 2019

Location

Groote Kerk, Maassluis

Violin and direction

Shunske Sato

Soprano

Griet De Geyter

Alto

Bernadett Nagy

Tenor

Guy Cutting

Bass

Drew Santini

Violin 2

Pieter Affourtit

Cello

Lucia Swarts

Double bass

Robert Franenberg

Bassoon

Benny Aghassi

Organ

Leo van Doeselaar

Harpsichord

Siebe Henstra

Director and editor

Bas Wielenga

Music recording

Guido Tichelman, Bastiaan Kuijt, Pim van der Lee

Music edit and mix

Guido Tichelman

Camera

Martin Struijf, Gideon Krijnen, Jesper Blok, Menco van Duren

Lights

Zen Bloot, Henry Rodgers, Patrick Galvin, Fiona Verkleij

Assistant director

Ferenc Soeteman

Set technique

Justin Mutsaers

Project manager team eng

Ron Vermeulen

Producer concert

Imke Deters, Marco Meijdam

Producer film

Jessie Verbrugh

Acknowledgement

Groote Kerk Maassluis & Stichting Muziek tussen Maas en Sluis

Supported by

Stichting Elise Mathilde Fonds
Help us to complete All of Bach
There are still many recordings to be made before the whole of Bach's oeuvre is online. And we can't complete the task without the financial support of our patrons. Please help us to complete the musical heritage of Bach, by supporting us with a donation!