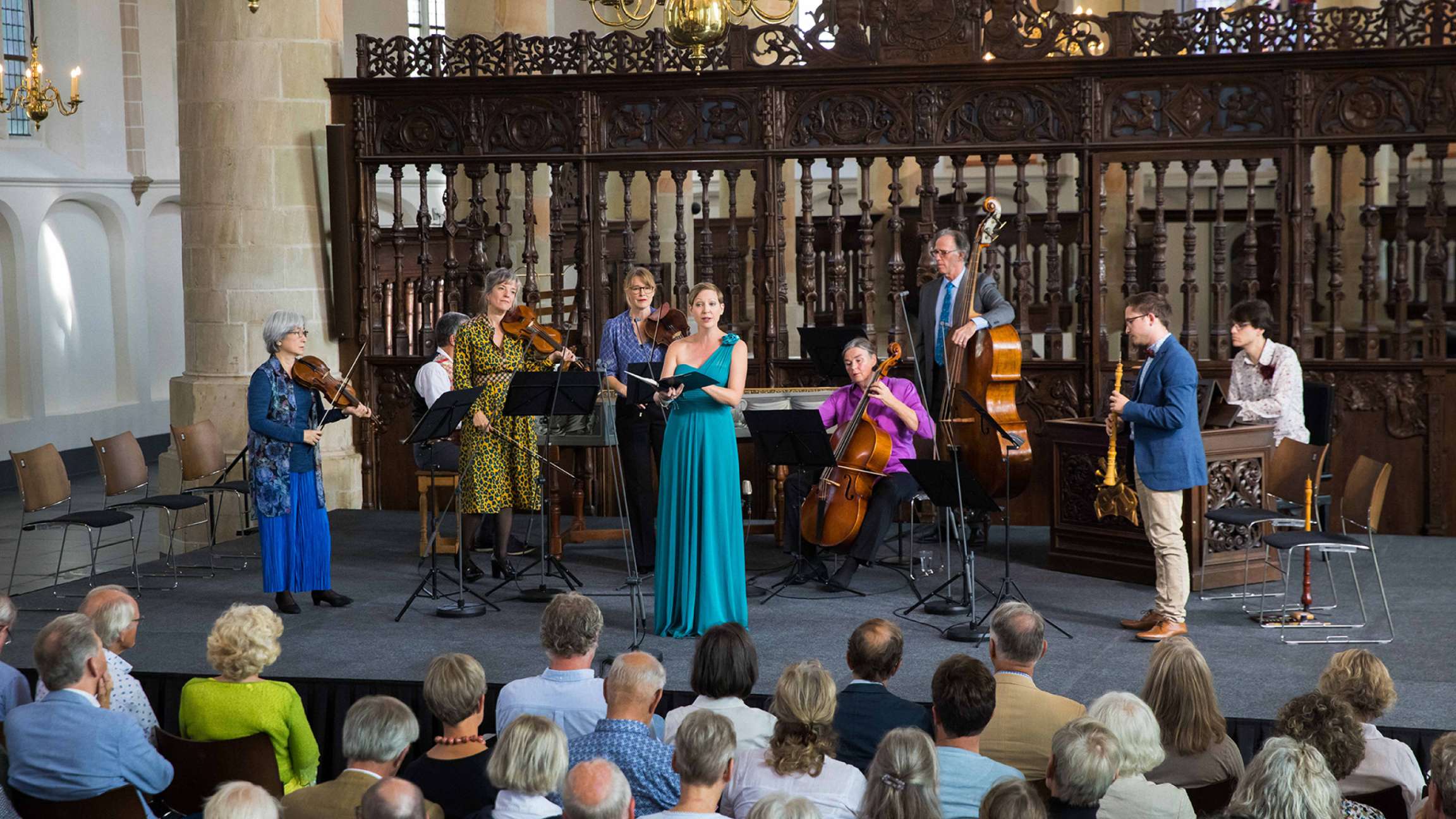 Weichet nur, betrübte Schatten
BWV 202 performed by the Netherlands Bach Society
Violin and direction by Sayuri Yamagata
Grote Kerk, Naarden
Menu
1. Weichet nur, betrübte Schatten (Aria)
2. Die Welt wird wieder neu (Recitatief)
3. Phoebus eilt mit schnellen Pferden (Aria)
4. Drum sucht auch Amor sein Vergnügen (Recitative)
5. Wenn die Frühlingslüfte streichen (Aria)
6. Und dieses ist das Glücke (Recitative)
7. Sich üben im Lieben (Aria)
8. So sei das Band der keuschen Liebe (Recitative)
9. Sehet in Zufriedenheit (Aria/Gavotte)
Flora and Cupid, hand in hand
In the springtime sunrise, Bach gets the lovebirds dancing.
Weddings are something we still do in the same way as in Bach's day: a solemn moment, congratulations, feasting and then dancing. And with live music of course, as a good 'band' could lend you status, attract more guests and simply guarantee more fun. This must have been very familiar to Bach himself, as his family was so dominant in musical Thüringen that the five town musicians of Erfurt were known as the 'Bache' (the Bachs). During and after the festive meal, it was these moonlighting town musicians that provided a very diverse playlist, ranging from hymns and fanfares, through all sorts of 'Tafelmusik', to French court dances. German dances were for the peasants.

Those with real money had a poem written, to be set to music. Bach's cantata Weichet nur, betrübte Schatten is a sophisticated example of this. Unfortunately, there is no trace of the context, except for a copy from 1730 by Johannes Ringk, who had probably been delving into the archive of his teacher (and Bach student) Johann Peter Kellner. It is possible that the happy couple lived in Köthen, where Bach himself spent his golden years between 1718 and 1723, marrying the court singer Anna Magdalena Wilcke there.

However, whoever, wherever or whenever it might have been, the poet arranged an expressive bouquet of five arias with short recitatives. The fertile spring – the ideal wedding season – portrays the burgeoning love arising from the marriage. The words describe how the darkness recedes, nature comes to life again and the sun dispels the cold wind. And then Cupid has free rein. Hunting for suitable couples, he eventually comes across the betrothed pair, at which everyone wishes them a future free of misfortune and thunder, united in matrimony.

Musically speaking, Bach lets us hear the poetry more than ever before. We hear the sun rising through the wisps of mist, we follow Apollo's chariot on its voyage across the skies and we are amazed by the wealth of wild flowers, courtesy of Flora. At the same time, Bach skilfully builds up to the highlight of the day: the ball. Each aria is more dancy than the preceding one, with precisely the dances that the bourgeoisie were so keen to see and hear. Above the last short aria, Bach even wrote 'gavotte', the well-known French dance. So one quick listen – and then it's time for a knees-up!
BWV

202

Title

Weichet nur, betrübte Schatten

Instrument

oboe, soprano

Genre

cantatas

Year

unknown

City

Köthen?

Occasion

wedding
Vocal texts
Original
1. Arie (Sopran)
Weichet nur, betrübte Schatten,
Frost und Winde, geht zur Ruh!
Florens Lust
will der Brust
nichts als frohes Glück verstatten,
denn sie träget Blumen zu.

2. Rezitativ (Sopran)
Die Welt wird wieder neu,
auf Bergen und in Gründen
will sich die Anmut doppelt schön verbinden,
der Tag ist von der Kälte frei.

3. Arie (Sopran)
Phoebus eilt mit schnellen Pferden
durch die neugeborne Welt.
Ja, weil sie ihm wohlgefällt,
will er selbst ein Buhler werden.

4. Rezitativ (Sopran)
Drum sucht auch Amor sein Vergnügen,
wenn Purpur in den Wiesen lacht,
wenn Florens Pracht sich herrlich macht,
und wenn in seinem Reich,
den schönen Blumen gleich,
auch Herzen feurig siegen.

5. Arie (Sopran)
Wenn die Frühlingslüfte streichen
und durch bunte Felder wehn,
pflegt auch Amor auszuschleichen,
um nach seinem Schmuck zu sehn,
welcher, glaubt man, dieser ist,
dass ein Herz das andre küsst.

6. Rezitativ (Sopran)
Und dieses ist das Glücke,
dass durch ein hohes Gunstgeschicke
zwei Seelen einen Schmuck erlanget,
an dem viel Heil und Segen pranget.

7. Arie (Sopran)
Sich üben im Lieben,
in Scherzen sich herzen
ist besser als Florens vergängliche Lust.
Hier quellen die Wellen,
hier lachen und wachen
die siegenden Palmen auf Lippen und Brust

8. Rezitativ (Sopran)
So sei das Band der keuschen Liebe,
Verlobte Zwei,
vom Unbestand des Wechsels frei!
Kein jäher Fall
noch Donnerknall
erschrecke die verliebten Triebe!

9. Arie/Gavotte (Sopran)
Sehet in Zufriedenheit
tausend helle Wohlfahrtstage,
dass bald bei der Folgezeit
eure Liebe Blumen trage!
Translation
1. Aria
Yield I say, ye brooding shadows,
Frost and tempests, take your rest!
Flora's mirth
Will our breast
Nought but merry joy now furnish,
For she draws with flowers nigh.

2. Recitative
The world again is new,
To hilltops and the valleys
Would gracious charm be twice as fair united,
The day is from the chill now free.

3. Aria
Phoebus hies with darting horses
Through the re-awakened world.
Yea, since to him it brings delight,
He himself would be a lover.

4. Recitative
Thus seeketh Amor, too, his pleasures,
When purple on the meadows laughs,
When Flora's glory is adorned,
And when in her domain,
Just like the flowers fair,
E'en hearts in passion triumph.

5. Aria
When the vernal breezes ramble
And through bright-clad meadows blow,
Amor, also likes to venture
Out to witness his great pride,
Which, as we believe, is this,
That one heart the other kiss.

6. Recitative
And this is that true gladness,
That through a lofty gift of fortune
Two spirits one rich gem discover,
In which much health and blessing sparkle.

7. Aria
To practise sweet courtship,
In jesting to frolic
Is better than Flora's mere passing delight.
Here wellsprings are welling,
Here laughing and watching
In triumph are palms on the lips and the breast.

8. Recitative
So may the bond of chaste affection,
O promised twain,
You free from all that change doth bring!
No sudden hap
Nor thunderclap
Let frighten that devoted passion!

9. Aria
Witness in contented bliss
Thousand radiant days of favor,
That soon in the time to come
Your affection bear its flower!

translation © Z. Philip Ambrose
Credits
Release date

2 November 2023

Recording date

10 September 2022

Location

Grote Kerk, Naarden

Violin and direction

Sayuri Yamagata

Soprano

Julia Doyle

Violin 2

Lidewij van der Voort

Viola

Deirdre Dowling

Cello

Lucia Swarts

Double bass

Robert Franenberg

Oboe

Rodrigo Lopez Paz

Harpsichord

Siebe Henstra

Organ

Laurens de Man

Director and editor

Onno van Ameijde

Music recording

Guido Tichelman, Lilita Dunska, Pim van der Lee

Music edit and mix

Guido Tichelman

Camera

Rieks Soepenberg, Carrien Dijkstra, Maria Smeets, Jorne Tielemans

Lights

Ernst-Jan Thieme

Grip

Patrick Galvin, Jason Mulder

Assistant director

Tom Peeters

Styling

Ellen Julianus

Assistant music recording

Marloes Biermans

Producer concert

Laura Jonker

Producer film

Marieke de Blaay

In memory of

Atzo Nicolaï
Help us to complete All of Bach
There are still many recordings to be made before the whole of Bach's oeuvre is online. And we can't complete the task without the financial support of our patrons. Please help us to complete the musical heritage of Bach, by supporting us with a donation!