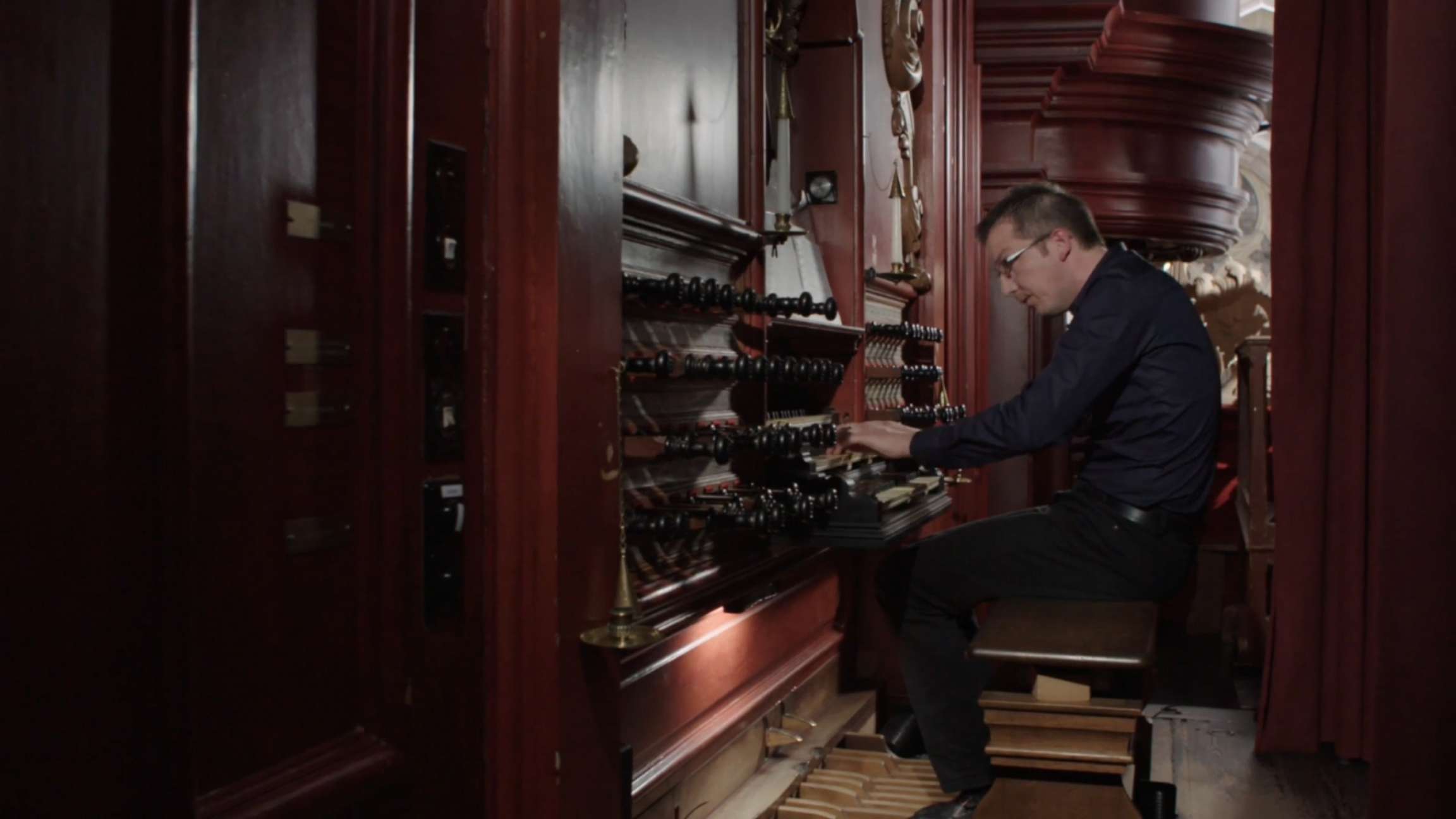 Prelude and fugue in C major
BWV 545 performed by Bart Jacobs
St.-Bavokerk, Haarlem
Story
Extra videos
Credits
Self-assured
This is an early work that has undergone a lot of tinkering.
The piece starts off with great self-assurance. With hops, steps and jumps, the pedal goes to a throbbing low C three times, while the right hand builds up a full chord straight away. And what follows is also decisive. The equally self-assured fugue is constructed firmly on the key of C major, which is never really called into question.
Yet all is not as self-evident as it sounds, as there is a whole maze of versions of this piece, with big and small differences. And nearly all of them originated in the eighteenth century. Precisely that characteristic start and finish of the prelude - the version that Bart Jacobs is playing here - is missing in some of the sources. The assumption is that Bach wrote the piece as a young organist, maybe as early as his Arnstadt or Mühlhausen days.
If you think there is a bit too much C major, you are not the only one. In some eighteenth-century manuscripts, a slow middle section in A minor from Sonata no. 5 in C major, BWV 529, has been placed in between the prelude and fugue. And sometimes it differs even more radically. One English manuscript gives a version in B-flat major "by the late Mr John Robinson" (1682-1762), organist of Westminster Abbey. In between the prelude and fugue, he puts a version of the final section of the Gamba sonata no. 3, BWV 1029, which in turn is sandwiched between two short intermezzos. According to his contemporary Charles Burney, Robinson was "regarded as one of the best performers on keyed instruments of the time", and he was "attended by great crowds, wherever he performed". So self-assured music will find its way from a small provincial town in Germany to the great Westminster Abbey.
Organ
This recording was made on the famous Müller organ in the Great or St. Bavo Church, in Haarlem. It is a very special instrument from 1738. Both Georg Friedrich Händel and Wolfgang Amadeus Mozart travelled to Haarlem to play this organ! Händel was particularly delighted by the unusual Vox Humana register. The organ has over 5000 pipes, divided over 64 registers, with three manuals and a pedal.
BWV

545

Title

Prelude and fugue in C major

Instrument

organ

Genre

organ works

Year

early work (before 1717?)

City

Arnstadt/Mühlhausen/Weimar

Special notes

There are several versions of this piece. The original version has not survived.
Extra videos
Credits
Release date

27 January 2017

Recording date

22 September 2016

Location

St Bavo's Church, Haarlem

Organist

Bart Jacobs

Organ

Christian Müller, 1738

Director

Bas Wielenga

Music recording

Guido Tichelman, Bastiaan Kuijt

Music edit and mix

Guido Tichelman

Camera

Bas Wielenga, Jeroen Simons

Lights

Gregoor van de Kamp

Interview

Onno van Ameijde, Marloes Biermans

Producer

Jessie Verbrugh
Help us to complete All of Bach
There are still many recordings to be made before the whole of Bach's oeuvre is online. And we can't complete the task without the financial support of our patrons. Please help us to complete the musical heritage of Bach, by supporting us with a donation!