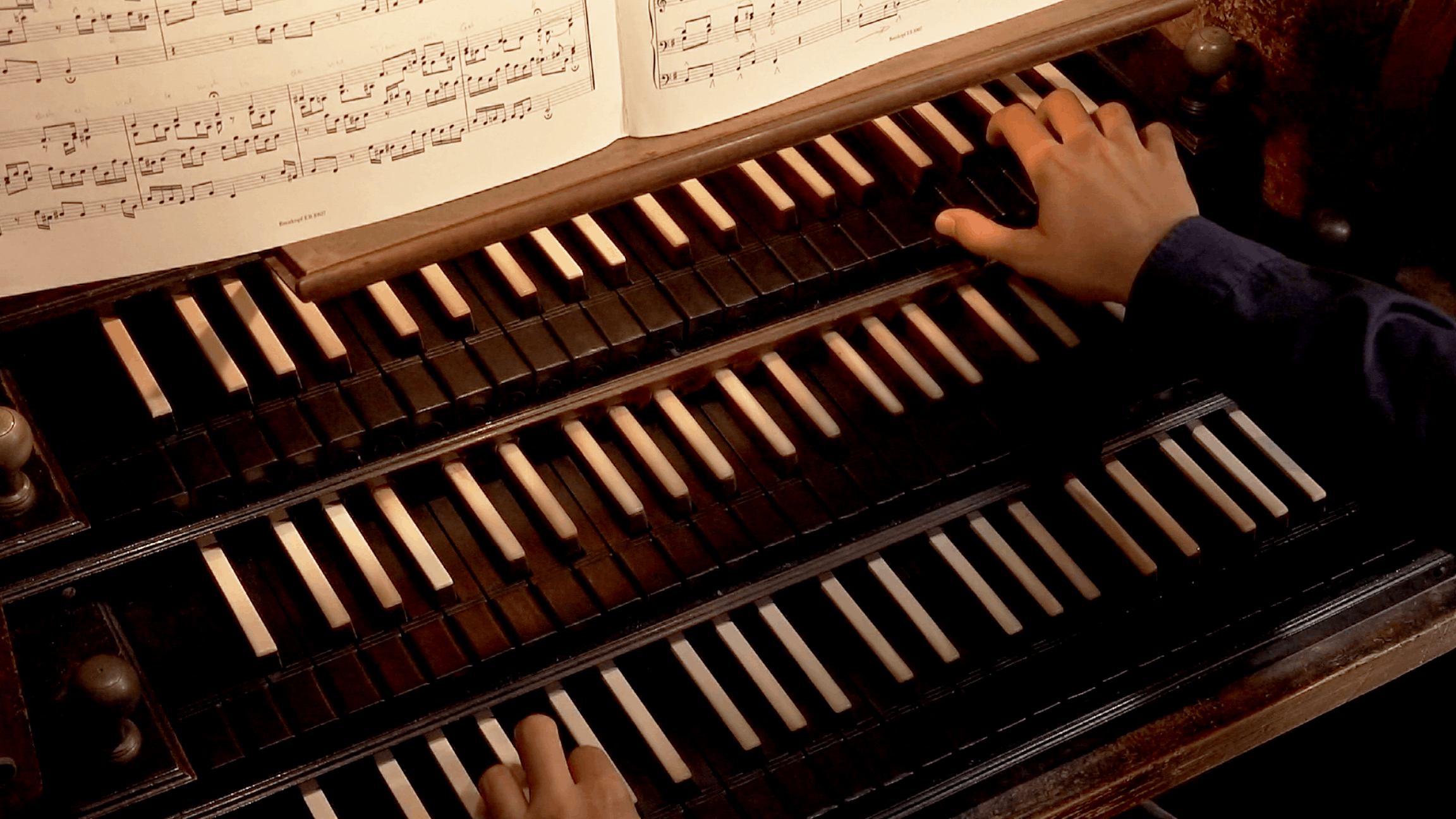 Wenn wir in höchsten Nöten sein
BWV 641 performed by Daniel Seeger
Freiberger Dom Sankt Marien, Freiberg, Germany
Story
Extra videos
Credits
Balanced and inventive
Bach soothes us.
Wenn wir in höchsten Nöten sein, BWV 641, comes from the Orgelbüchlein, a collection of chorale preludes compiled by Bach between 1712 and 1717. A chorale prelude – a short introduction by the organist – ensured that the congregation knew which hymn they had to sing.

At the time BWV 641 was created, Bach was working in Weimar, as an organist and chamber musician at the court of Duke Wilhelm Ernst. In the preceding years, Bach had gained plenty of improvisation experience in the position of organist. In his first chorale preludes, he was still searching for his own style, and his urge to experiment was rather too obvious, but here we hear the Bach we all admire so much. Balanced and infinitely inventive, with an ear for both tradition and the latest fashion, and always focused on the character of the text. It was the first time that Bach had compiled such a systematic collection of chorale arrangements. Apparently, he was aware of the standard he had reached in them.
The soothing music accompanies the chorale Wenn wir in höchsten Nöten sein. If we find ourselves in dire straits, we know that in any case we can call on the Lord together. Originally, it was a Calvinist hymn (Lève le coeur), with a melody by the renowned hymn writer Louis Bourgeois. The Lutherans seem to have liked this melody, as it is also used for the chorale Vor deinem Thron tret' ich hiermit. Bach wrote the chorale prelude of this name at the end of his life – and the story goes that he dictated it from his deathbed.
BWV

641

Title

Wenn wir in höchsten Nöten sein

Instrument

organ

Genre

organ works

Serie

Orgelbüchlein

Year

1714-1715

City

Weimar
With support from
Extra videos
Credits
Release date

30 March 2023

Recording date

16 September 2020

Location

Freiberger Dom Sankt Marien, Freiberg, Germany

Organist

Daniel Seeger

Organ

Gottfried Silbermann, 1711-1714

Director and editor

Robin van Erven Dorens

Music recording

Guido Tichelman, Bastiaan Kuijt

Music edit and mix

Guido Tichelman

Camera

Robin van Erven Dorens, Onno van der Wal

Lights

Ernst-Jan Thieme

Assistant music recording

Marloes Biermans

Producer

Jessie Verbrugh

With support from

MWH4impact
Help us to complete All of Bach
There are still many recordings to be made before the whole of Bach's oeuvre is online. And we can't complete the task without the financial support of our patrons. Please help us to complete the musical heritage of Bach, by supporting us with a donation!