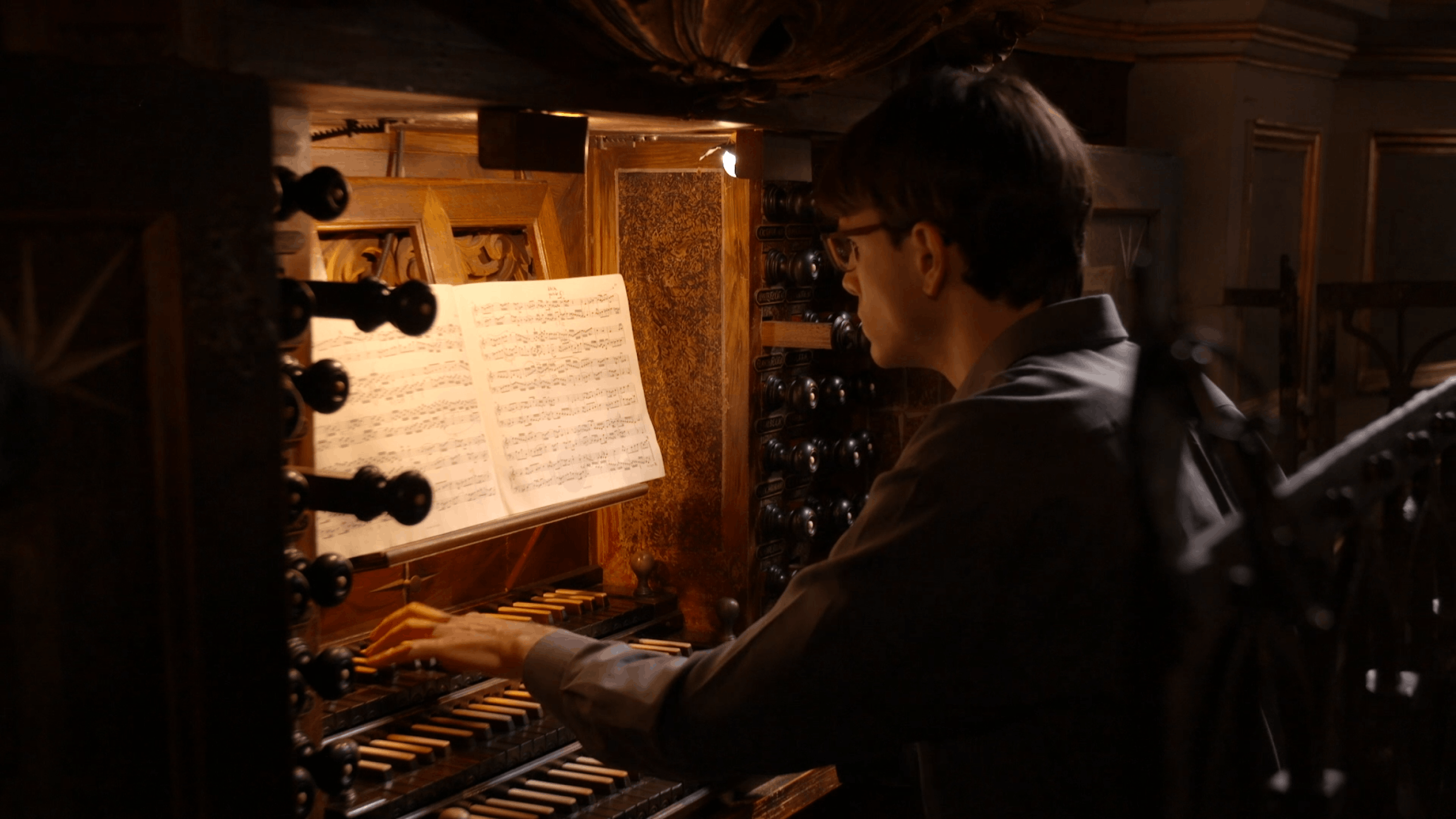 Duet no. 2 in F major
BWV 803 performed by Laurens de Man
Freiberger Dom Sankt Marien, Freiberg, Germany
Story
Extra videos
Credits
Clouds pass over the sun
In the middle of this duet, it seems as if a strange virus suddenly appears, caused by a mutation in the DNA.
After Bach had ushered his listeners into a disorientating harmonic world in BWV 802 (the first of four duets in the third part of the Clavier-Übung), everything appears to be back to normal in this second duet. Just a nice sunny F major and a completely regular theme that rises in joyful leaps and then continues in exuberant movement. But just when you're convinced there's not a cloud in the sky, a new theme is introduced. It opens in the upper part with a peculiar harmonic step; a sort of small mutation in the DNA of F major.
And then the floodgates open. The lower part follows straight away in a strict canon on the same theme, with the same mutation, but then a couple of tones lower. As the same small harmonic irregularity is now heard at different pitches, the normality of the beginning is soon far away. Shortly afterwards, the opening theme returns, also in a sort of canon between the two parts. But instead of being sunny, the opening theme has now been infected by that peculiar harmonic mutation. And it continues: both themes are heard right way up and upside down, in a harmonic whole that appears to have been deformed by a sort of virus.
But then, almost before you know it, the two parts are healed. We're back in the F major of the beginning, and the middle section of the duet remains at the back of your mind like a sort of feverish delirium.
Clavier-Übung
In Leipzig, between 1731 and 1741, Bach published four parts of Clavier-Übung, a title used previously by Johann Kuhnau, his predecessor as cantor at the Thomasschule, for similar collections of works for organ and harpsichord. The compositions are very varied in nature and, although the title suggests otherwise, were difficult to play. Bach addresses all the styles, genres and techniques for harpsichord and organ that were prevalent at the time, but then in the superior form to which only he had the patent.
Clavier-Übung I (1731) contains the six partitas, BWV 825-830; Clavier-Übung II (1735) the Concerto nach italienischen Gusto, BWV 971 and the Ouverture nach französischer Art, BWV 831; and Clavier-Übung IV (1741) the Goldberg Variations, BWV 988. The largest part, Clavier-Übung III (1739), is the only one devoted to organ, containing mostly chorale arrangements, or organ preludes based on Lutheran hymns. Bach made two versions of each chorale: one for great organ and one for a smaller type of organ. Most of the chorales refer to the six parts of the catechism. It is unclear whether Bach also played them during the services, or whether he developed his musical ideas in them for his own use, with no intention of performing them in public.
BWV

803

Title

Duet no. 2 in F major

Instrument

organ

Genre

organ works

Serie

Clavier-Übung III

Year

1739

City

Leipzig
With support from
Extra videos
Credits
Release date

17 March 2022

Recording date

16 September 2020

Location

Freiberger Dom Sankt Marien, Freiberg, Germany

Organist

Laurens de Man

Organ

Gottfried Silbermann, 1711-1714

Director and editor

Robin van Erven Dorens

Music recording

Guido Tichelman, Bastiaan Kuijt

Music edit and mix

Guido Tichelman

Camera

Robin van Erven Dorens, Onno van der Wal

Lights

Ernst-Jan Thieme

Assistant music recording

Marloes Biermans

Interview

Robin van Erven Dorens, Marloes Biermans

Producer

Jessie Verbrugh

With support from

MWH4impact
Help us to complete All of Bach
There are still many recordings to be made before the whole of Bach's oeuvre is online. And we can't complete the task without the financial support of our patrons. Please help us to complete the musical heritage of Bach, by supporting us with a donation!