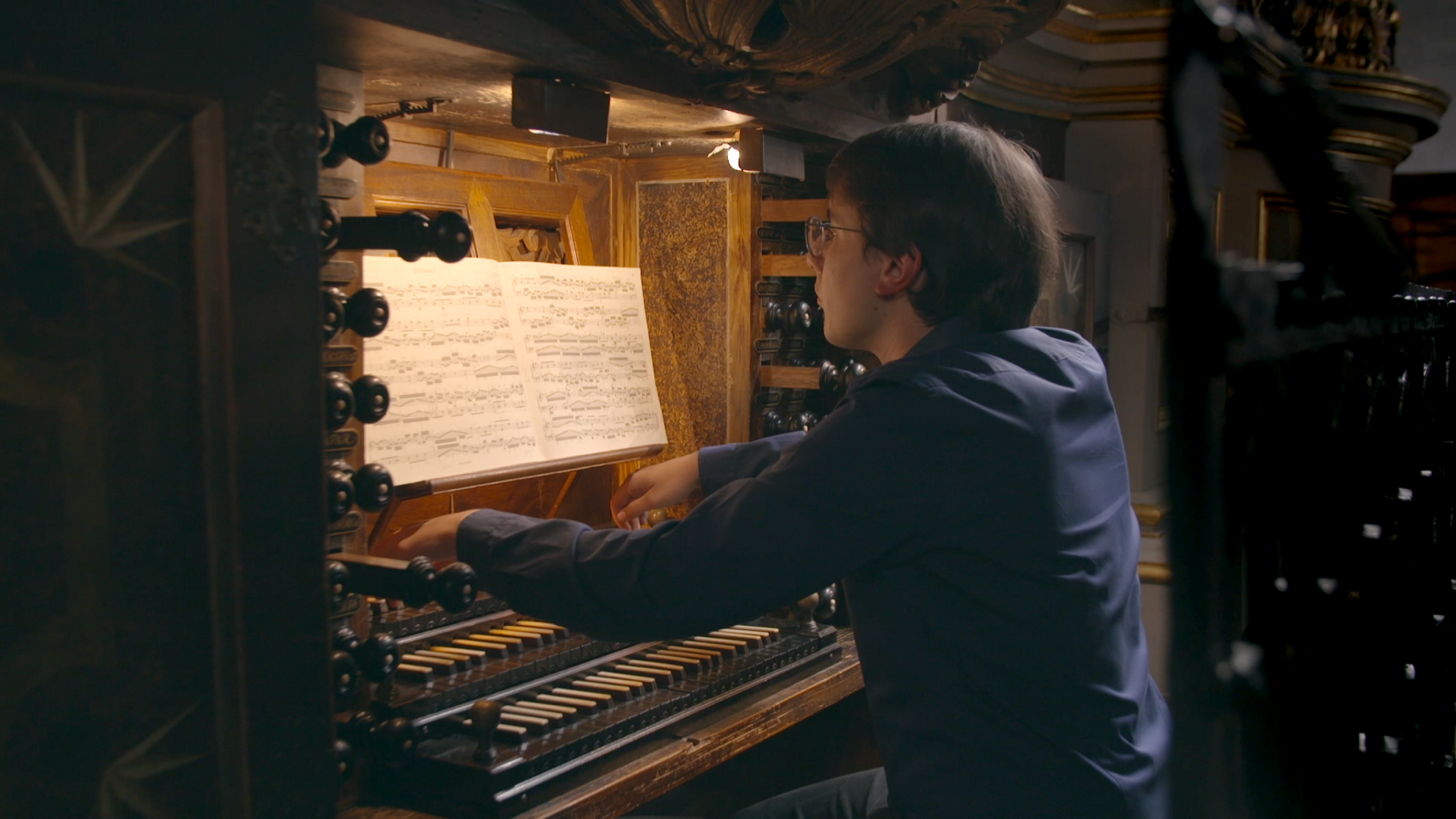 Duet no. 1 in E minor
BWV 802 performed by Daniel Seeger
Freiberger Dom Sankt Marien, Freiberg, Germany
Story
Extra videos
Credits
Mysterious whole
Why did Bach include four duets in a collection of chorales?
Jesus Christus unser Heiland (BWV 689) is the last in the series of ingenious chorale arrangements in the third part of Bach's Clavier-Übung, a collection of organ pieces that follow the themes of the Lutheran Sunday services. Each piece has a clear theme. But after all the chorale arrangements, the first of four enigmatic duets suddenly makes its appearance. Musicologists still disagree today about whether these duets have a special significance and, if so, what it might be.
The interpretations are very diverse. Some think that the four duets right before the closing fugue simply bring the total number of pieces in the collection to 27. This does at least conform to the clear trinity theme of the book: 27 = 3 × 3 × 3. But there are also theories about the cross symbolism, the traditional Easter hymn Victime paschali laudes, Lutheran prayers and devotions, and communion practices, etc. In short, the only clear thing nowadays is that if the duets did have symbolic meaning, we have still not been able to shed light on it.
Yet this quest for meaning is not unfounded. The special quality of the music of the duets is reason enough to search for something beyond the notes. This first duet begins with an ascending and descending scale that is half in minor and half in major. It is immediately followed by some chromatic colourful motifs that appear to wander around. In the rest of the duet, Bach repeats, varies and combines these starting points to form a mysterious whole. And the final chord leaves you wondering what you've actually been told.
Clavier-Übung
In Leipzig, between 1731 and 1741, Bach published four parts of Clavier-Übung, a title used previously by Johann Kuhnau, his predecessor as cantor at the Thomasschule, for similar collections of works for organ and harpsichord. The compositions are very varied in nature and, although the title suggests otherwise, were difficult to play. Bach addresses all the styles, genres and techniques for harpsichord and organ that were prevalent at the time, but then in the superior form to which only he had the patent.
Clavier-Übung I (1731) contains the six partitas, BWV 825-830; Clavier-Übung II (1735) the Concerto nach italienischen Gusto, BWV 971 and the Ouverture nach französischer Art, BWV 831; and Clavier-Übung IV (1741) the Goldberg Variations, BWV 988. The largest part, Clavier-Übung III (1739), is the only one devoted to organ, containing mostly chorale arrangements, or organ preludes based on Lutheran hymns. Bach made two versions of each chorale: one for great organ and one for a smaller type of organ. Most of the chorales refer to the six parts of the catechism. It is unclear whether Bach also played them during the services, or whether he developed his musical ideas in them for his own use, with no intention of performing them in public.
BWV

802

Title

Duet no. 1 in E minor

Instrument

organ

Genre

organ works

Serie

Clavier-Übung III

Year

1739

City

Leipzig
With support from
Extra videos
Credits
Release date

20 January 2022

Recording date

16 September 2020

Location

Freiberger Dom Sankt Marien, Freiberg, Germany

Organist

Daniel Seeger

Organ

Gottfried Silbermann, 1711-1714

Director and editor

Robin van Erven Dorens

Music recording

Guido Tichelman, Bastiaan Kuijt

Music edit and mix

Guido Tichelman

Camera

Robin van Erven Dorens, Onno van der Wal

Lights

Ernst-Jan Thieme

Assistant music recording

Marloes Biermans

Interview

Robin van Erven Dorens, Marloes Biermans

Producer

Jessie Verbrugh

With support from

MWH4impact
Help us to complete All of Bach
There are still many recordings to be made before the whole of Bach's oeuvre is online. And we can't complete the task without the financial support of our patrons. Please help us to complete the musical heritage of Bach, by supporting us with a donation!