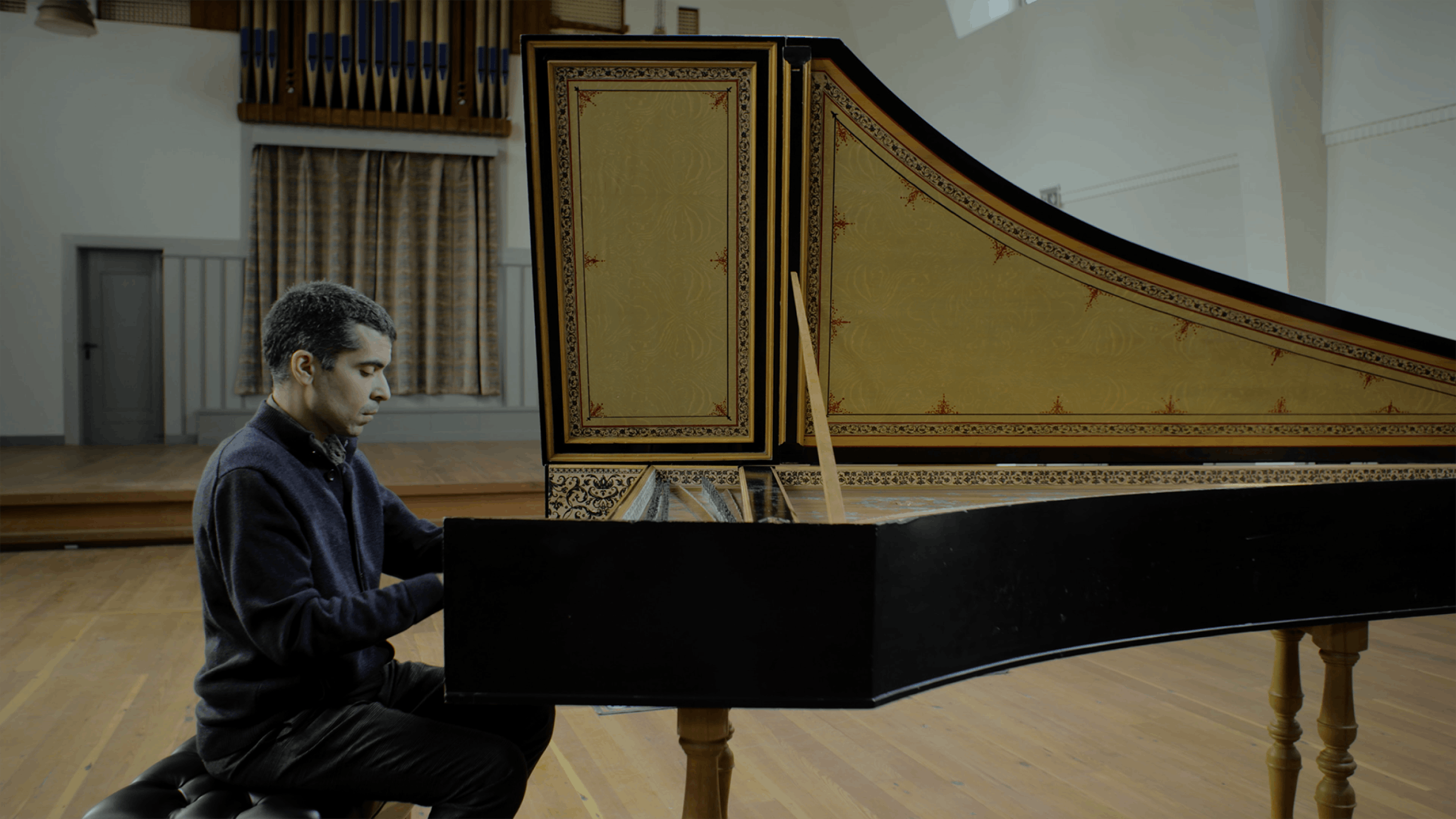 Partita no. 6 in E minor
BWV 830 performed by Diego Ares
at Studio 150 - Bethlehem Church, Amsterdam
Menu
1. Toccata
2. Allemande
3. Courante
4. Air
5. Sarabande
6. Tempo di Gavotta
7. Gigue
A complicated musical structure
French, German and Italian influences are combined in this serious partita.
In the last twenty-five years of his life, Bach had several works printed – keyboard music, in particular. There was a market for this, and if Bach was famed for anything it was his prowess on the keyboard. This led to the printing of the Clavier-Übung between 1731 and 1741. We can see these collections as Bach's musical testament, as they are the culmination of a development that took many years.
The first part of the Clavier-Übung is devoted to the suite. As the name suggests, this form came from France, where people did a lot of dancing. French harpsichordists often played whole series of dances in a set order – called a suite. The French culture flourished in this period, so the suite also found its way to other countries. But culture does not develop in isolation. The Italians called the suite 'partita' and gave their own twist to it. This, in turn, influenced German composers who were writing suites. Bach uses the name 'partita' fairly frequently, and does so in the Clavier-Übung as well.
The Partita BWV 830 is the last of six in the Clavier-Übung I and is remarkable for its gravity. These six partitas are anyway more serious than the English and French suites Bach had written earlier. The composer begins with a long toccata in several parts, which is reminiscent of Buxtehude – the music of his youth. Further on in the work, too, Bach often chooses for complicated musical structures. The music is no longer very dancy. However, Bach combines French, German and Italian influences in exemplary fashion, creating a homogenous style, in which justice is done to every note. Well worthy of a testament.
BWV

830

Title

Partita no. 6 in E minor

Instrument

Harpsichord

Genre

harpsichord works

Serie

Clavier-Übung I, II, IV, Six keyboard partitas

Year

Published 1730, first version ca. 1725

City

Leipzig

Special notes

This partita is a revision of an earlier Partita in E minor, BWV 830.1, from the Clavier-Büchlein für Anna Magdalena Bach
Credits
Release date

7 September 2023

Recording date

4 November 2020

Location

Studio 150 - former Bethlehem Church, Amsterdam

Harpsichord

Diego Ares

Instrument

Joel Katzman, 1991 after Ruckers, 1638

Director, camera and lights

Gijs Besseling

Music recording

Guido Tichelman, Joeri Saal

Music edit and mix

Guido Tichelman

Camera, lights

Danny Noordanus

Data handling

Stefan Ebels

Assistant music recording

Marloes Biermans

Producer

Jessie Verbrugh
Help us to complete All of Bach
There are still many recordings to be made before the whole of Bach's oeuvre is online. And we can't complete the task without the financial support of our patrons. Please help us to complete the musical heritage of Bach, by supporting us with a donation!