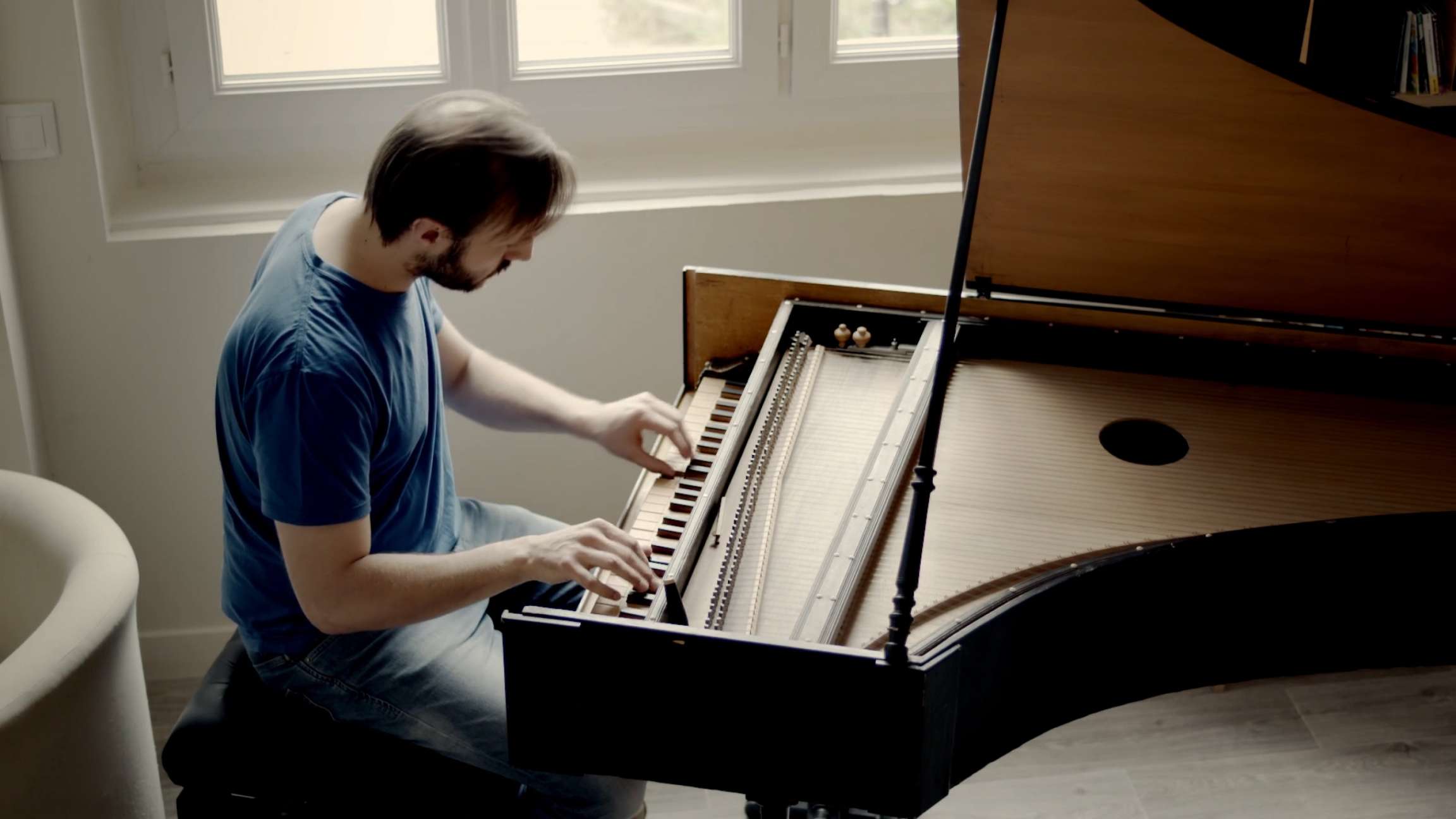 The Well-Tempered Clavier I No. 4 in C-sharp minor
BWV 849 performed by Bertrand Cuiller
at home in Bois le Roi, France
Story
Extra videos
Credits
Mental puzzle
Not as carefree as it appears
There are countless analyses and interpretations of Bach's Wohltemperirte Clavier. The further we stray from our rational times to more romantic ones, the more beautiful the descriptions. For instance, the nineteenth-century commentator Hugo Riemann calls this pair of works in C-sharp minor the 'holy of holies', filled with 'dignity, inspiration and noble sentiments'. The prelude, with its drawn-out lines, should be heard as 'the yearning of a great heart', while the fugue stands like a 'mighty cathedral'. So much mysticism sounds rather strange to us today.
Light and sensual
So how should we 'read' this work now? Bertrand Cuiller opts for a light, sensual approach, especially in the prelude. Drawn-out festoons and elegant arpeggios create a noble atmosphere, while tension is provided by the big leap in the theme and a series of not-quite-cadence lines in the middle section. The gently rolling siciliano dance rhythm conceals a restless harmonic game – some phrases recur with precision in the fugue – so the piece is not as carefree as it appears.
It is remarkable that the complex fugue has the shortest theme in the whole collection. The five notes also contain one of the tensest intervals – a diminished 4th. If you start building on such a distilled theme, you soon end up in a harmonic morass – and too many tones no longer fit within the Baroque aesthetics. So Bach cheated a little (although keeping to the rules). Intervals of a semitone sometimes become a whole tone and the diminished 4th even becomes perfect here and there – all to good effect. The five parts enter in orderly fashion from low to high, after which the theme returns no fewer than 24 times, often right at the top or all the way at the bottom of the construction. But there are two other themes as well: a long line of twisting ornaments and a short one of doggedly repetitive notes. It takes a sharp mind to unravel this mental puzzle.
Das Wohltemperirte Clavier, BWV 846-893
Composing 48 keyboard pieces in all 24 keys was the sort of challenge Bach enjoyed. In each of the two parts of the Wohltemperirte Clavier, he brought together the musical couple prelude and fugue 24 times; twelve in minor keys and twelve in major. In the preludes, he gave free rein to his imagination, and demonstrated mathematical tours de force in the fugues. In contrast to the iron discipline Bach had to apply to his church compositions, here he could abandon himself to intellectual Spielerei without worrying about deadlines.
The first part of the Wohltemperirte Clavier dates from 1722, although it contains some music that was written in the preceding five years. There is less clarity about the history of part two. Bach compiled this second manuscript only around 1740, although once again some of the preludes and fugues it contains date from a much earlier period. Bach described the target group for this collection of pieces as follows: 'Zum Nutzen und Gebrauch der Lehr-begierigen Musicalischen Jugend, als auch dere in diesem studio schon habil seyenden besonderem ZeitVertreib' (For both the education of the industrious musical youngster and the enjoyment of those well-versed in this material').
BWV

849

Title

Prelude and fugue in C-sharp minor

Epithet

no. 4 from The Well-Tempered Clavier I

Instrument

harpsichord

Genre

harpsichord works

Serie

Das Wohltemperirte Clavier I

Year

1722 or earlier

City

Cöthen (or Weimar?)
With support from
Prins Bernhard Cultuurfonds
Extra videos
Credits
Release date

18 November 2016

Recording date

15 September 2016

Location

Bois le Roi, France

Harpsichordist

Bertrand Cuiller

Harpsichord

Philippe Humeau, Lot-et-Garonne, France, 2002

Director

Jan Van den Bossche, Hanna Schreuders

Music recording, edit and mix

Guido Tichelman

Camera and interview

Gijs Besseling

Producer

Hanna Schreuders

With support from

Prins Bernhard Cultuurfonds
Help us to complete All of Bach
There are still many recordings to be made before the whole of Bach's oeuvre is online. And we can't complete the task without the financial support of our patrons. Please help us to complete the musical heritage of Bach, by supporting us with a donation!