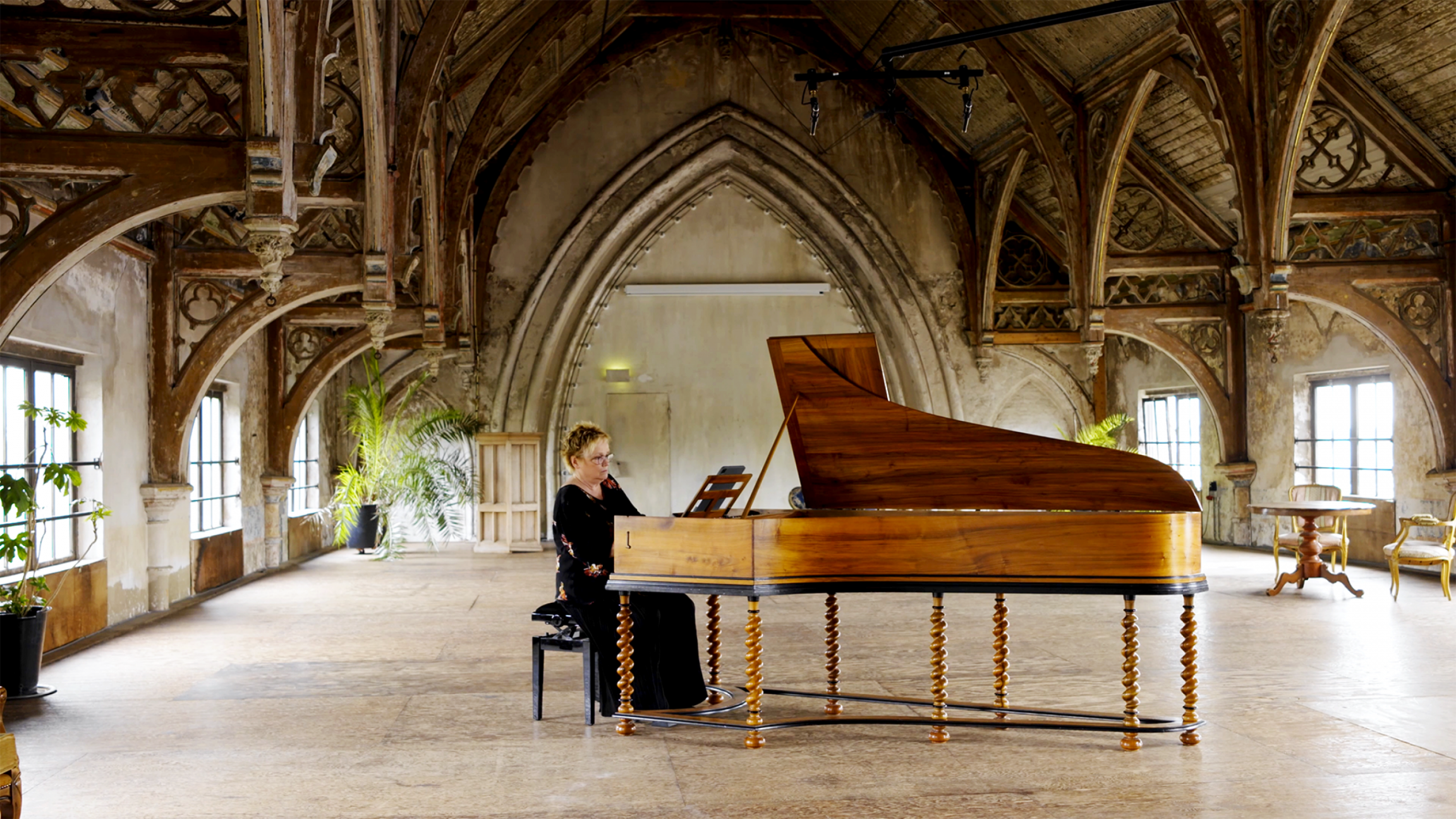 The Well-Tempered Clavier II No. 12 in F minor
BWV 881 performed by Christine Schornsheim
at Metaal Kathedraal, Utrecht
Story
Extra videos
Credits
Galant simplicity
Simple constructions and modern ideas, with Bach's unique touch.
In Bach's day, besides the physical distance of almost two hundred kilometres between Leipzig and Berlin – a journey that could take up to three days – there was also a rift between musical styles. Whereas in Saxony, Bach could not relinquish the Baroque style (and raised it to its ultimate peak), the Prussian capital city proudly laid claim to the title of ultra-modern, with the Enlightenment king Frederick II the Great as its cheerleader. At least, this is how it is often summarised, although there appears to be more nuance in reality. Bach did indeed cherish and rival the heritage of his predecessors and masters, but he was also well acquainted with musical developments elsewhere, if only by following the successes of his composer sons. Certainly, elements of the Berlin galant style regularly seep into the second Wohltemperirte Clavier – and nowhere so prominently as in this prelude and fugue.

If galants had to choose, then their preference would be for a singable melody, rather than the complex web of voices favoured by their Baroque forebears. Sooner clear language than aural illusions – except for giving listeners the occasional pleasant shock. In this prelude, Bach combines it all: in the first eight bars, we hear both galant and Baroque ideas, first with sighing quavers and then sparkling semiquavers, and later elegantly combined. In the second half, we even hear a melodic snatch, and just before the end the flowing movement comes to an abrupt halt on two full chords.

In the fugue, Bach proceeds sparingly. The theme, in bourrée form, which always remains clearly audible, actually permits just one modulation: from the root to the dominant (and back again in the answer). Very striking is Bach's use of parallel thirds and sixths; the same intervals as the 'sighs' in the prelude – a fixed ingredient of galant music. This fugue is known as quite unique in Bach's oeuvre. In 1782, the composer Johann Friedrich Reichardt even described it as a sort of elegy in a bygone style; an expression of the 'deepest, sweetest feelings of sorrow'.
WTC II
We recorded Bach's first book of Preludes and Fugues in all the keys at the homes of 24 different musicians. For this second part, performed in its entirety by Christine Schornsheim, we chose 12 very different locations in Utrecht, to celebrate the 900th anniversary of our home city.
Das Wohltemperirte Clavier, BWV 846-893
Composing 48 keyboard pieces in all 24 keys was the sort of challenge Bach enjoyed. In each of the two parts of the Wohltemperirte Clavier, he brought together the musical couple prelude and fugue 24 times; twelve in minor keys and twelve in major. In the preludes, he gave free rein to his imagination, and demonstrated mathematical tours de force in the fugues. In contrast to the iron discipline Bach had to apply to his church compositions, here he could abandon himself to intellectual Spielerei without worrying about deadlines.
The first part of the Wohltemperirte Clavier dates from 1722, although it contains some music that was written in the preceding five years. There is less clarity about the history of part two. Bach compiled this second manuscript only around 1740, although once again some of the preludes and fugues it contains date from a much earlier period. Bach described the target group for this collection of pieces as follows: 'Zum Nutzen und Gebrauch der Lehr-begierigen Musicalischen Jugend, als auch dere in diesem studio schon habil seyenden besonderem ZeitVertreib' (For both the education of the industrious musical youngster and the enjoyment of those well-versed in this material').
BWV

881

Title

Prelude en fugue in F minor

Epithet

no. 12 from the Well-Tempered Clavier II

Instrument

Harpsichord

Genre

harpsichord works

Serie

Das Wohltemperirte Clavier II

Year

circa 1742

City

Leipzig
Extra videos
Credits
Release date

26 January 2023

Recording date

23 September 2022

Location

Metaal Kathedraal, Utrecht

Harpsichordist

Christine Schornsheim

Harpsichord

Bruce Kennedy 1989, after Michael Mietke

Director, camera and lights

Gijs Besseling

Music recording

Guido Tichelman, Pim van der Lee

Music edit and mix

Guido Tichelman

Camera, lights

Danny Noordanus

Data handling

Stefan Ebels, Brechtje van Riel

Assistant music recording

Marloes Biermans

Producer

Marieke de Blaay
Help us to complete All of Bach
There are still many recordings to be made before the whole of Bach's oeuvre is online. And we can't complete the task without the financial support of our patrons. Please help us to complete the musical heritage of Bach, by supporting us with a donation!