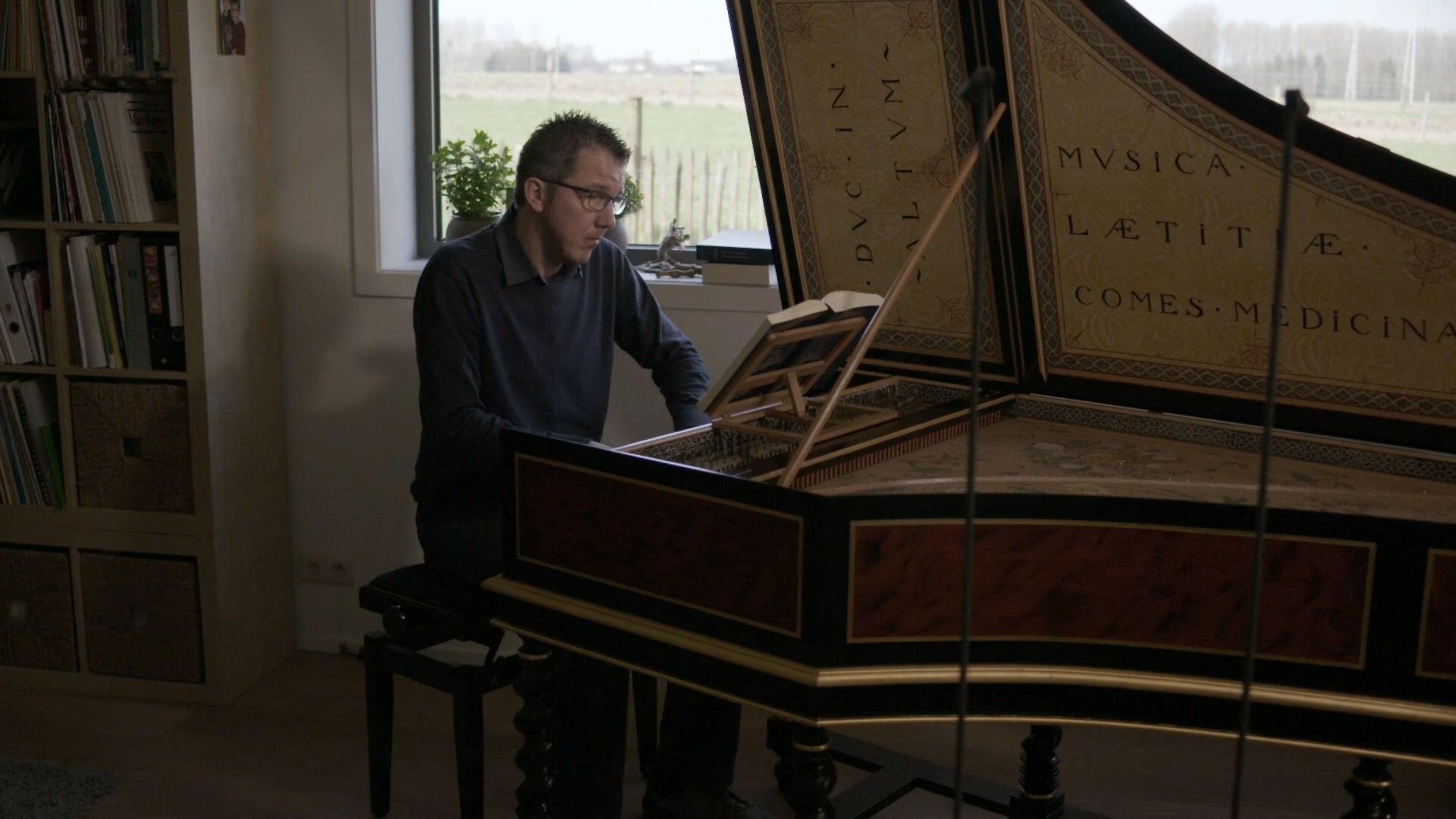 Toccata in E minor
BWV 914 performed by Bart Jacobs
at home in Eikevliet, Belgium
Menu
1. Prelude
2. Un poco allegro
3. Adagio
4. Fugue (Allegro)
Story
Extra videos
Credits
World champion fugue writer
A pedal motif that is not possible for organ – and a mysterious fugue.
The seven 'manualiter' toccatas (played only with the hands) belong to Bach's earlier works and clearly echo the North-German keyboard school of his upbringing. The Toccata in E minor is the shortest of them and is clearly structured in four parts that flow more or less seamlessly into one another, as was usual in seventeenth-century keyboard music.
The short and relatively simple Prelude opens with a striking motif that appears to be written for a pedal. Yet this is not the case, according to harpsichordist Bart Jacobs, as the highest note cannot be played on an organ pedal. An elegant double fugue is followed by a capricious Adagio, which is rather reminiscent of a recitative.
The Toccata ends with a second, more brilliant fugue, which bears a strong resemblance to an anonymous piece in the library of the Naples Conservatory of Music. It poses a dilemma for musicologists. Although Bach often arranged Italian concertos and also borrowed the occasional fugue theme from the Italians, he never adopted a whole fugue. But maybe it was the other way around and the anonymous Italian copied the fugue from Bach, or – as a last resort – both composers based their piece on a lost original. We will probably never know for certain. Incidentally, Bach's version of the fugue is 'better', but that is hardly surprising from the world champion fugue writer.
Seven toccatas, BWV 910-916
The seven toccatas by Bach can be regarded as a conclusion to his early period as a keyboard composer. He did not conceive of them as a collection himself; that only happened after his death. Yet they do show a clear relationship, with regard to both form and style. They are extensive works with multiple sections. But unlike the later suites and partitas, the sections flow more or less seamlessly into one another. Here, Bach still has one foot firmly in the seventeenth century.
BWV

914

Title

Toccata in E minor

Instrument

Harpsichord

Genre

harpsichord works

Serie

Seven Toccatas (clavier)

Year

ca. 1710
Extra videos
Credits
Release date

11 January 2019

Recording date

23 March 2017

Location

Eikevliet, Belgium

Harpsichordist

Bart Jacobs

Harpsichord

Andreas Kilström (2009) after I. Couchet, Antwerp (about 1650)

Director

Jan van den Bossche, Hanna Schreuders

Music recording

Guido Tichelman

Camera and interview

Gijs Besseling

Editing

Augustine Huijsser

Production

Jessie Verbrugh
Help us to complete All of Bach
There are still many recordings to be made before the whole of Bach's oeuvre is online. And we can't complete the task without the financial support of our patrons. Please help us to complete the musical heritage of Bach, by supporting us with a donation!