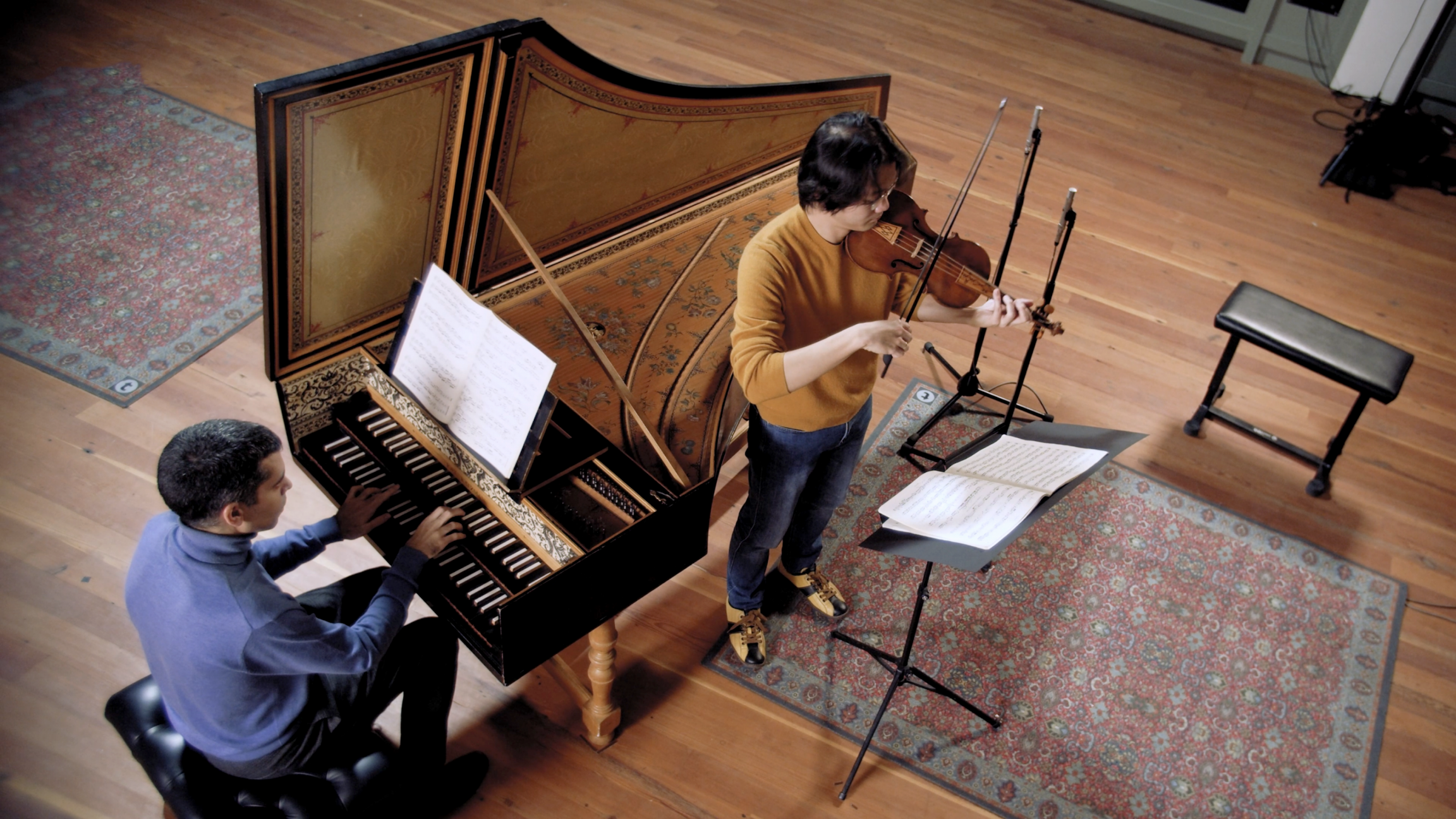 Sonata for violin and harpsichord no. 6 in G major
BWV 1019c performed by Shunske Sato and Diego Ares
at Studio 150 - Bethlehemchurch, Amsterdam
Menu
1. Vivace
2. Largo
3. Allegro
4. Adagio
5. Allegro
Story
Extra videos
Credits
Building blocks
The best kind of functional music.
Although there is much uncertainty about the details of Bach's earliest music, we do know for sure that this sonata accompanied its composer throughout his life. Like the other violin sonatas, BWV 1019 originated in the period of Bach's big solo works that were created before 1720. The six sonatas for violin and harpsichord, of which this is the last in the series, may have been arrangements of lost trio sonatas. Two later variations of this Sonata in G major have survived in several sources. The last one dates from the 1740's, which is quite exceptional. In this sonata, Bach appears to have mixed and matched his music to his heart's content. A Courante for harpsichord solo moved to the third movement of Partita no. 6 BWV 830, the versions differed in the order and even the number of their movements, and over the years Bach replaced most of the movements with new music (from his archive?). So it looked as if he still performed the sonata regularly. To make things easier, Shunske Sato and Diego Ares recorded all the versions – for the puzzlers, enthusiasts and completists among us.
With its five – and at one point even six – movements, the sonata is very different to its five sisters, which are all properly comprised of the four slow-fast-slow-fast movements of the sonata da chiesa convention. Even more surprising is the Allegro for harpsichord. The very first version also had such an unexpected solo, but then a different one to later on. Incidentally, this prominent position in the middle version is taken by a Cantabile ma un poco adagio of unworldly beauty; a quasi-aria that fortunately also appears as a true aria for soprano in cantatas BWV 120 and 120a.
BWV

1019c

Title

Sonata in G major - third version

Epithet

Sonata for violin and harpsichord no. 6 in G major

Instrument

harpsichord, violin

Genre

chamber music

Serie

Six sonatas (violin and harpsichord)

Year

ca. 1739/40, first and second version around 1725 and 1730 respectively

City

Leipzig

Special notes

There are no fewer than three different variations of this sonata. Various parts of the sonata were later incorporated into other works (BWV 830/3 and 6 and BWV 120/4)
Extra videos
Credits
Release date

1 September 2022

Recording date

4 November 2020

Location

Studio 150 - former Bethlehemchurch, Amsterdam

Violin

Shunske Sato

Harpsichord

Diego Ares

Instrument

Joel Katzman, 1991 after Ruckers, 1638

Director, camera and lights

Gijs Besseling

Music recording

Guido Tichelman, Joeri Saal

Music edit and mix

Guido Tichelman

Camera, lights

Danny Noordanus

Data handling

Stefan Ebels

Assistant music recording

Marloes Biermans

Producer

Jessie Verbrugh

With support from

Walter Snoijink
Violin Sonata no. 6 in G major
There are no fewer than three different variations of this sonata. Shunske Sato and Diego Ares recorded all the versions.
Help us to complete All of Bach
There are still many recordings to be made before the whole of Bach's oeuvre is online. And we can't complete the task without the financial support of our patrons. Please help us to complete the musical heritage of Bach, by supporting us with a donation!