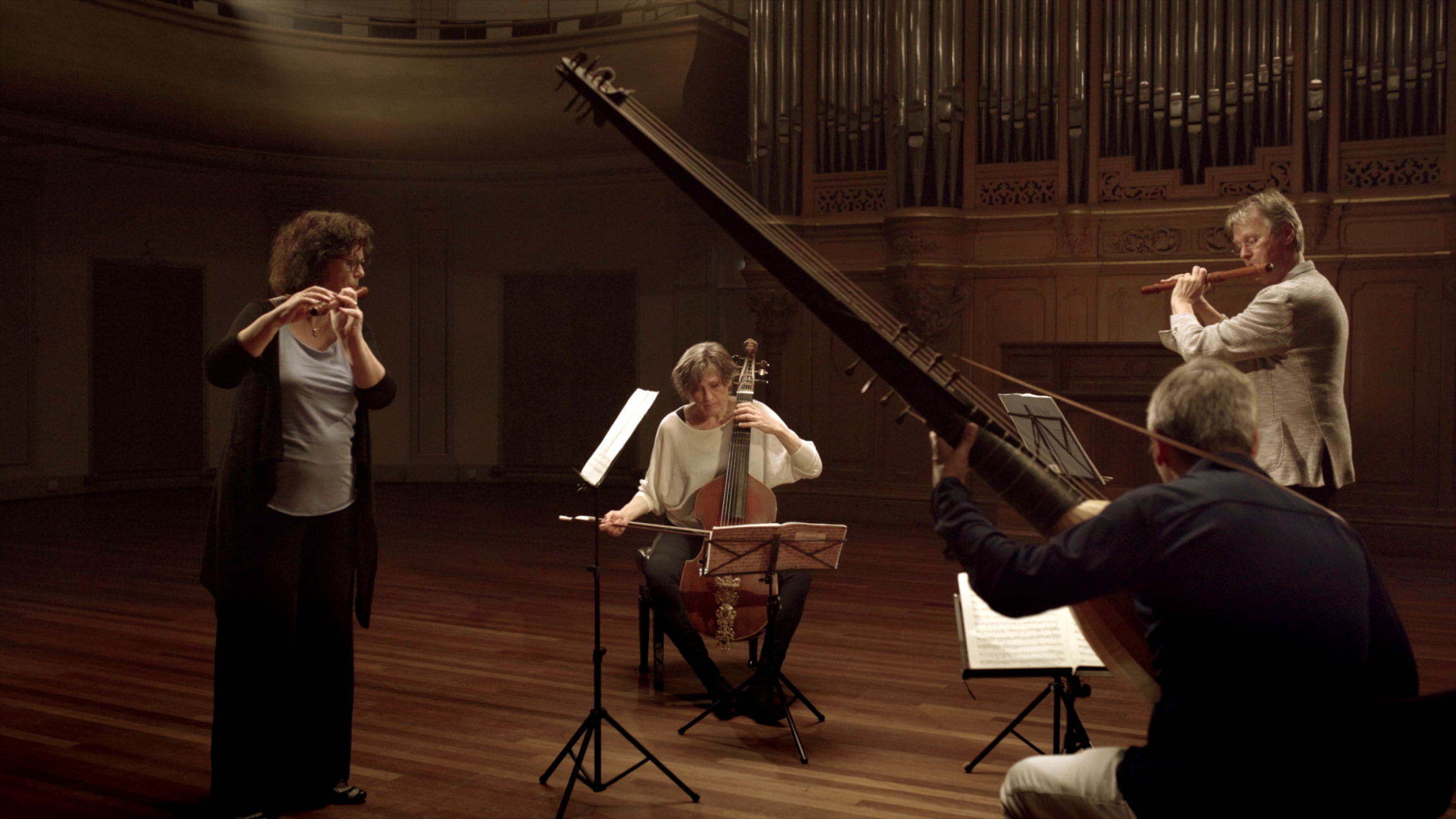 Trio Sonata in G major
BWV 1039 performed by Marten Root, Doretthe Janssens,
Mieneke van der Velden and Mike Fentross
Philharmonie, Haarlem
Menu
1. Adagio
2. Allegro ma non presto
3. Adagio e piano
4. Presto
Popular notes
A Bach piece that was sought-after in its day can exist in many different versions.
Nowadays, it is almost a cliché that Bach was not very famous in his day and that his music was not very well known. Yet there are also plenty of indications that some of his music did circulate and was played by fellow musicians. One example of this was the many copies of Bach's organ music that were already doing the rounds by the mid-eighteenth century. But one of the nicest and most interesting signs of the popularity of some of Bach's music in his own day is his own arrangements of that music for various instruments.
Sometimes, these arrangements can be traced back to Bach himself. But actually, the arrangements made by other people are just as interesting. They show that musicians from Bach's time thought his music was worth playing on other instruments as well.
This trio sonata for two flutes and basso continuo, BWV 1039, also exists in a version for viola da gamba and harpsichord. Researchers suspect, however, that neither version is the original. It may originally have been a trio sonata for two violins and basso continuo, although it is far from certain. The final movement of the sonata also exists in a version for organ (BWV 1027a), dating from the 1730's.
The reason for all these different versions is clear: like the other trio sonatas, this is a balanced work full of nice melodic and harmonic inventions. So who wouldn't want to play it? Although the other trio sonatas also exist in versions for different instruments, this is the only one for two flutes. In Bach's day, the transverse flute, or traverso, was a popular instrument with the upper middle classes and the nobility, and this sonata gave (and still gives) the opportunity of enjoying Bach's music to two flautists, rather than just one. No wonder that Marten Root smiles so happily after the final note.
BWV

1039

Title

Sonata in G major

Instrument

viola da gamba, lute, traverso

Genre

chamber music

Year

not before 1726

City

Leipzig

Special notes

Like the Sonata for gamba, BWV 1027, this sonata is probably an arrangement by Bach of an earlier trio sonata that has not survived.
Credits
Release date

23 June 2022

Recording date

4 June 2021

Location

Philharmonie, Haarlem

Traverso

Marten Root, Doretthe Janssens

Viola da gamba

Mieneke van der Velden

Theorbo

Mike Fentross

Director, camera

Robin van Erven Dorens

Music recording

Guido Tichelman, Bastiaan Kuijt

Music edit and mix

Guido Tichelman

Camera

Onno van der Wal

Lights

Ernst-Jan Thieme

Best boy

Jordi Kooij

Data handling

Stefan Ebels

Assistant music recording

Marloes Biermans

Producer

Jessie Verbrugh

Supported by

an anonymous donor, accompanied by the following statement: "S.D.G." (Soli Deo Gloria)
Help us to complete All of Bach
There are still many recordings to be made before the whole of Bach's oeuvre is online. And we can't complete the task without the financial support of our patrons. Please help us to complete the musical heritage of Bach, by supporting us with a donation!