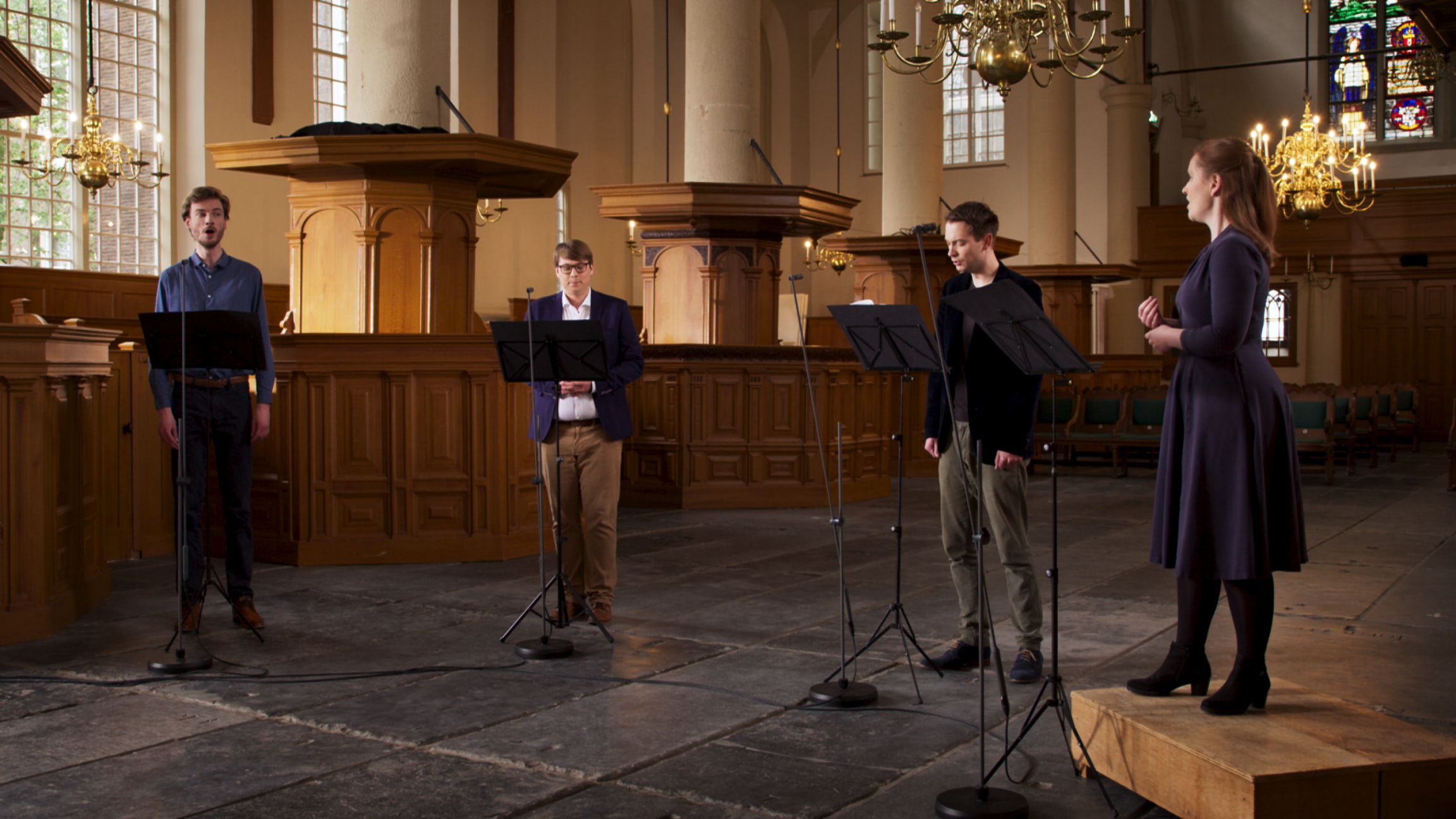 Meine Seele erhebet den Herrn
BWV 324 performed by the Young Bach Fellows
from the Netherlands Bach Society
Walloon Church, Amsterdam
A singing soul
Bach's simple setting of Luther's German Magnificat.
Martin Luther proposed a radical simplification of the relationship between God and his creation – his only contact person was Jesus, while the saints (m/f) were demoted to being venerable role models. Nevertheless, the Virgin Mary remained an important figure. Luther regarded her, the mother of God, as the queen of heaven and totally free of sin: a perfect illustration of God's mercy. The Magnificat, Mary's hymn of thanks when she hears of her pregnancy, can be seen as a summary of this promise from a generous God: he gives life, forgiveness and salvation.
In Bach's Leipzig, Luther's translation of 'Meine Seele erhebet den Herrn' was sung every week during vespers, on Saturday and Sunday, in a simple setting by Schein, while more complex versions were put on the music stands for high feast days. The chorale setting sung by the Young Bach Fellows begins like the closing chorale of the cantata Meine Seele erhebt den Herren, BWV 10, but from the second phrase switches to sections with no written rhythm for the text in between. The idea is that the singers recite the text, like in Gregorian psalms or English chants. This chorale has survived in a collection of chorales by Bach without text, compiled by Friedrich Birnstiel, from 1769. Birnstiel selected the chorales on the advice of Bach's sons and pupils. His work is one of the most important sources for many generations of composers, for whom Bach's chorales became models. This is because, as Carl Philip Emmanuel Bach wrote in his foreword to Birnstiel's collection, even in the case of his father's lesser compositions 'people expect a masterpiece of him'.
BWV

324

Title

Meine Seele erhebet den Herrn

Genre

chorales

Year

unknown

Lyricist

Latin hymn translated by Luther
Vocal texts
Original
Meine Seel erhebt den Herrn,
und mein Geist freuet sich Gottes,
meines Heilandes;
Denn er hat seine elende Magd
angesehen. Siehe, von nun an werden
mich selig preisen alle Kindeskind.
Er übet Gewalt mit seinem Arm
Und zerstreut, die hoffärtig sin in ihres Herzens Sinn.
Die Hungrigen füllet er mit Gütern
Und lässet die Reichen leer.
Lob und Preis sei Gott dem Vater und dem Sohn
Und dem Heiligen Geiste.
Wie es war im Anfang,
jetzt und immerdar,
Und von Ewigkeit zu Ewigkeit. Amen.
Translation
My soul doth magnify the Lord,
and my spirit hath rejoiced in God
my Saviour.
For He hath regarded the low estate
of His handmaiden: for behold, from
henceforth all generations shall call me blessed.
He hath shewed strength with his arm; he hath
scattered the proud in the imagination of their hearts.
He hath filled the hungry with good things;
and the rich he hath sent empty away.
Laud and praise to God,
the Father, the Son and the Holy Ghost;
as it was in the beginning,
is now and ever shall be,
world without end. Amen.
Credits
Release date

14 April 2022

Recording date

11 May 2021

Location

Walloon Church, Amsterdam

Soprano

Bethany Shepherd

Alto

Oscar Verhaar

Tenor

Jasper Dijkstra

Bass

Jaap van der Wel

Cello

Carlos Leal

Traverso

David Westcombe

Organ/harpsichord

Masako Awaji

Director and editor

Bas Wielenga

Music recording

Guido Tichelman, Bastiaan Kuijt

Music edit and mix

Guido Tichelman

Camera & lights

Onno van Ameijde, Rieks Soepenberg

Assistant music recording

Marloes Biermans

Producer concert

Hilde Van Ruymbeke

Producer film

Jessie Verbrugh
Help us to complete All of Bach
There are still many recordings to be made before the whole of Bach's oeuvre is online. And we can't complete the task without the financial support of our patrons. Please help us to complete the musical heritage of Bach, by supporting us with a donation!