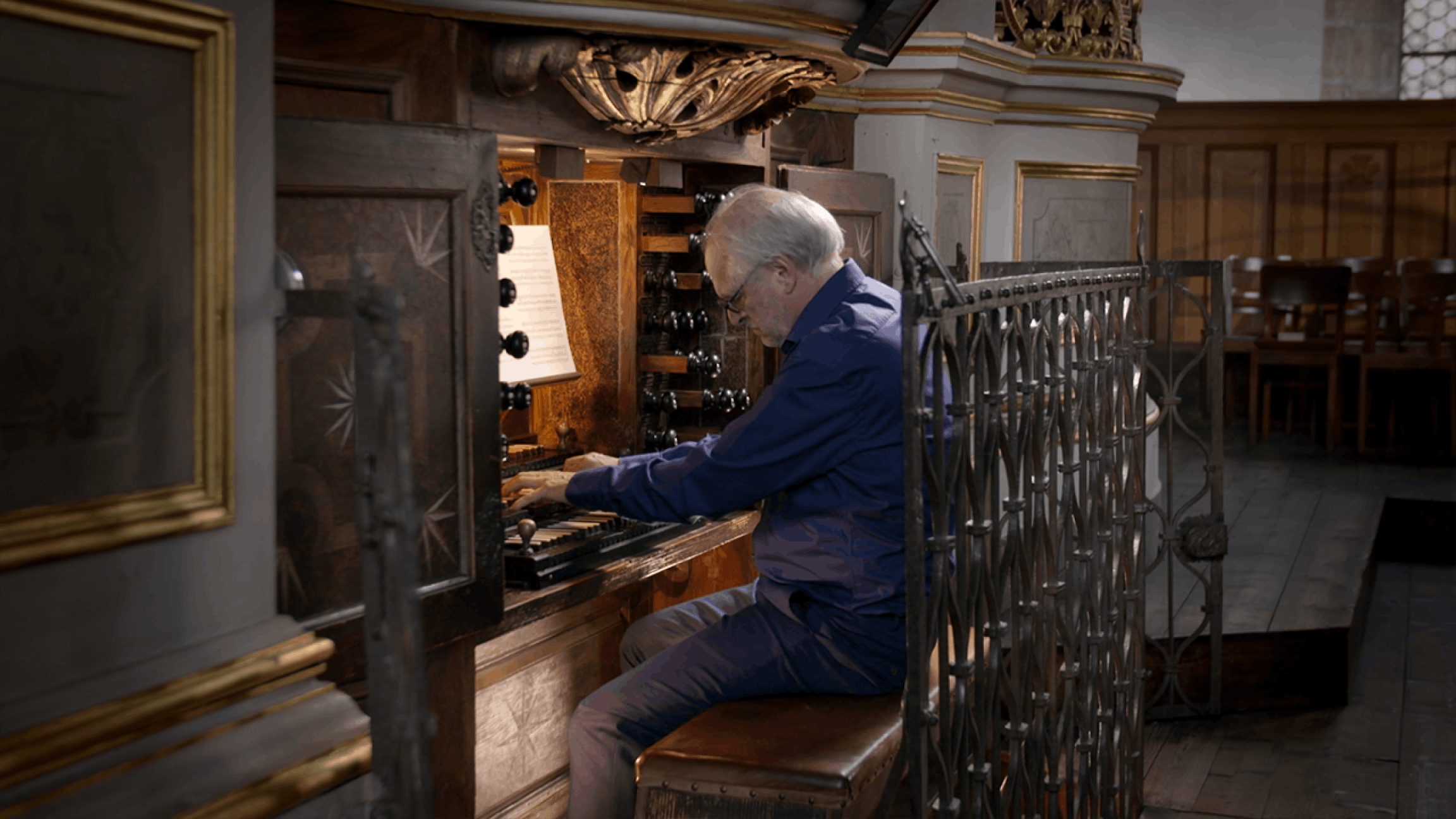 Aus tiefer Not schrei ich zu dir
BWV 804 performed by Leo van Doeselaar
Freiberger Dom Sankt Marien, Freiberg, Germany
Story
Extra videos
Credits
Pulling out all the stops
Six-part hair shirt.
In the third part of the Clavier-Übung, this monumental organ arrangement of the Lutheran hymn Aus tiefer Not schrei ich zu dir represents the confession in Luther's Small Catechism (or doctrine of the faith). The words and the melody are Luther's own version of the traditional penitential psalm De profundis clamavi. The catechism explains that the first part of the confession consists of acknowledging your sins. And that is what happens in this hymn. The mercy is granted later, in BWV 687.
In the array of styles and techniques displayed by Bach in the third part of the Clavier-Übung, BWV 686 is the ultimate example of stile antico: the strict sixteenth-century 'motet style', grafted onto vocal music. There is no room here for frivolities. Within the space of ten bars, Bach envelops us in a sonorous six-part hair shirt – interwoven with successive parts of a chorale melody, and embroidered with plaintive motifs and moments of harmonic despair.
In his catechism, Luther answers the question of which sins we should confess to as follows: "Before God we should plead guilty of all sins, even those we are not aware of." This comprehensiveness resonates in BWV 686: not only is it the only work where Bach wrote a six-part chorale arrangement for organ, but he also explicitly requests the 'organo pleno' (full organ) and even an exceptional 'pedale doppio' (double pedal), where each foot plays its own part. It is hard to imagine a fuller atonement.
Clavier-Übung
In Leipzig, between 1731 and 1741, Bach published four parts of Clavier-Übung, a title used previously by Johann Kuhnau, his predecessor as cantor at the Thomasschule, for similar collections of works for organ and harpsichord. The compositions are very varied in nature and, although the title suggests otherwise, were difficult to play. Bach addresses all the styles, genres and techniques for harpsichord and organ that were prevalent at the time, but then in the superior form to which only he had the patent.
Clavier-Übung I (1731) contains the six partitas, BWV 825-830; Clavier-Übung II (1735) the Concerto nach italienischen Gusto, BWV 971 and the Ouverture nach französischer Art, BWV 831; and Clavier-Übung IV (1741) the Goldberg Variations, BWV 988. The largest part, Clavier-Übung III (1739), is the only one devoted to organ, containing mostly chorale arrangements, or organ preludes based on Lutheran hymns. Bach made two versions of each chorale: one for great organ and one for a smaller type of organ. Most of the chorales refer to the six parts of the catechism. It is unclear whether Bach also played them during the services, or whether he developed his musical ideas in them for his own use, with no intention of performing them in public.
BWV

686

Title

Aus tiefer Not schrei ich zu dir

Instrument

Organ

Genre

organ works

Serie

Clavier-Übung III

Year

1739

City

Leipzig
Thanks to
Extra videos
Credits
Release date

17 August 2023

Recording date

18 September 2020

Location

Freiberger Dom Sankt Marien, Freiberg, Germany

Organist

Leo van Doeselaar

Organ

Gottfried Silbermann, 1711-1714

Director and editor

Robin van Erven Dorens

Music recording

Guido Tichelman, Bastiaan Kuijt

Music edit and mix

Guido Tichelman

Camera

Robin van Erven Dorens, Onno van der Wal

Lights

Ernst-Jan Thieme

Assistant music recording

Marloes Biermans

Interview

Robin van Erven Dorens, Marloes Biermans

Producer

Jessie Verbrugh

Supported by

MWH4impact
Help us to complete All of Bach
There are still many recordings to be made before the whole of Bach's oeuvre is online. And we can't complete the task without the financial support of our patrons. Please help us to complete the musical heritage of Bach, by supporting us with a donation!