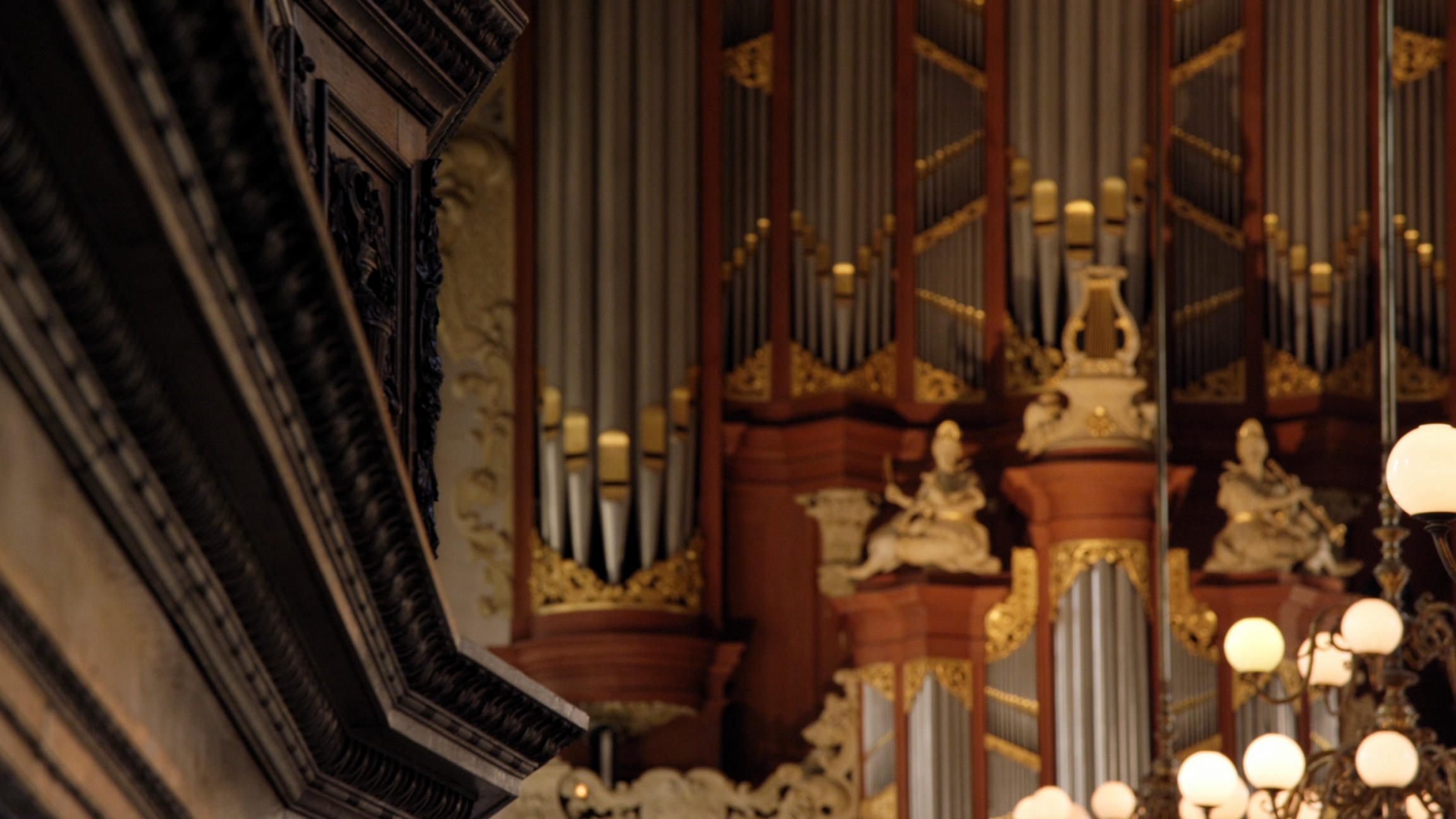 Aus tiefer Not schrei ich zu dir
BWV 687 performed by Reitze Smits
St Jacob's Church, Leeuwarden
Story
Extra videos
Credits
Oppressive and charming
In this chorale arrangement, Bach sides with insignificant mankind.
There is a world of difference between the grandeur of Bach's six-part arrangement of this chorale (BWV 686) and the humility of this small-scale version. The chorale 'Aus tiefer Not schrei ich zu dir' (Out of the depths I cry to you O Lord) is one of the psalms from the Office for the Dead. The words of the psalm have often been set to the most beautiful music. In this arrangement of the chorale, it seems as if Bach is siding with vulnerable mankind, creeping closer, as it were, to God's throne, daring only to hope and expecting nothing. The only thing to hold onto is the melody line, which runs from start to finish in long note values. It results in a composition that is equally oppressive and charming. Organist Reitze Smits associates the calm and well-balanced atmosphere with God's mercy after confession.
Clavier-Übung
In Leipzig, between 1731 and 1741, Bach published four parts of Clavier-Übung, a title used previously by Johann Kuhnau, his predecessor as cantor at the Thomasschule, for similar collections of works for organ and harpsichord. The compositions are very varied in nature and, although the title suggests otherwise, were difficult to play. Bach addresses all the styles, genres and techniques for harpsichord and organ that were prevalent at the time, but then in the superior form to which only he had the patent.
Clavier-Übung I (1731) contains the six partitas, BWV 825-830; Clavier-Übung II (1735) the Concerto nach italienischen Gusto, BWV 971 and the Ouverture nach französischer Art, BWV 831; and Clavier-Übung IV (1741) the Goldberg Variations, BWV 988. The largest part, Clavier-Übung III (1739), is the only one devoted to organ, containing mostly chorale arrangements, or organ preludes based on Lutheran hymns. Bach made two versions of each chorale: one for great organ and one for a smaller type of organ. Most of the chorales refer to the six parts of the catechism. It is unclear whether Bach also played them during the services, or whether he developed his musical ideas in them for his own use, with no intention of performing them in public.
BWV

687

Title

Aus tiefer Not schrei ich zu dir

Instrument

Organ

Genre

organ works

Serie

Clavier-Übung III

Year

1739

City

Leipzig
Extra videos
Credits
Release date

28 August 2015

Recording date

15 September 2014

Location

St Jacob's Church, Leeuwarden

Organist

Reitze Smits

Organ registration

Mayuko Banno

Organ

Christian Müller, 1727

Producer

Frank van der Weij

Film director

Jan Van den Bossche

Directors of photography

Diderik Evers, Ruben van den Broeke

Music production, editing and mix

Holger Schlegel

Film editor

Dylan Glyn Jones

Colorist

Jef Grosfeld

Production assistant

Hanna Schreuders

Interview

Onno van Ameijde

Acknowledgements

Rob Tigchelaar
Help us to complete All of Bach
There are still many recordings to be made before the whole of Bach's oeuvre is online. And we can't complete the task without the financial support of our patrons. Please help us to complete the musical heritage of Bach, by supporting us with a donation!