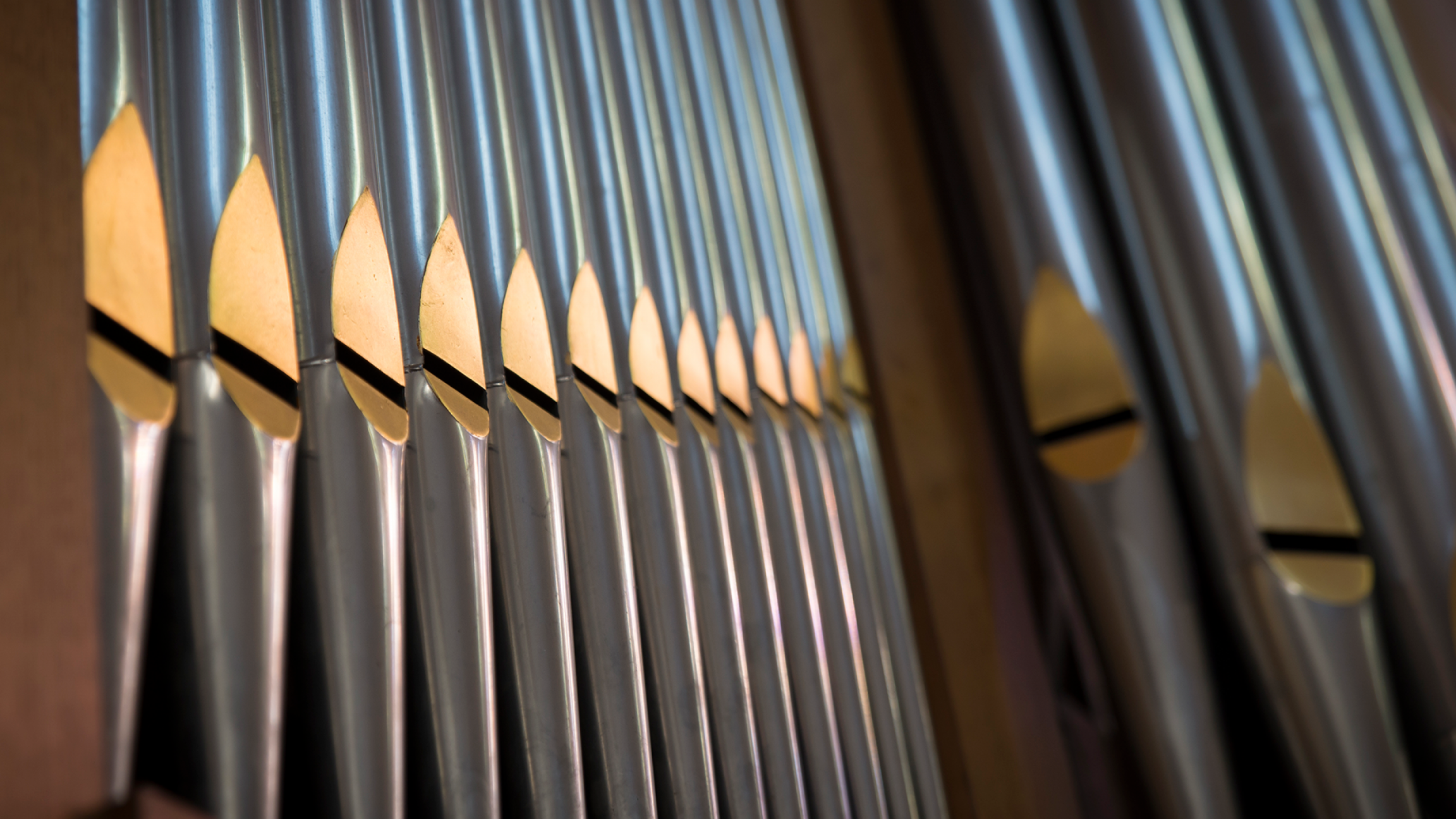 Jesus Christus, unser Heiland
Jesus Christus, unser Heiland performed by Reitze Smits
St Jacob's Church, Leeuwarden
Story
Extra videos
Credits
Leaps and runs
The last of the six catechism chorales receives unusual treatment
Unlike Calvin and his Dutch followers, Martin Luther recognised a very clear role for music in the church. "Do not rely on the young folk to remember and learn from the sermon alone", he notes in the preface to his Deutsche Messe (1526), in which he also proposes folk songs as a way of remembering theological concepts. In the same publication, Luther links the chorale Jesus Christus, unser Heiland to the sacrament of Communion. The melody became one of the six songs of the catechism, thus ending up in Clavier-Übung III.
The setting is simple in structure, yet full of symbolism. The unusually large leaps of the theme are seen by some people as two lines – God and mankind – who keep approaching and losing one another again, whereas others interpret them as a cross motif or even a representation of the Greek letters chi and rho, for Jesus Christ. Such symbolism on paper is difficult to hear, and it is likely that Bach simply wanted to experiment on a purely musical level with a perpetuum mobile of leaps and runs. It is only in the last bars, when the melody in the pedal is no longer heard, that the machine finally comes to a halt with one last dissonant twist.
Clavier-Übung
In Leipzig, between 1731 and 1741, Bach published four parts of Clavier-Übung, a title used previously by Johann Kuhnau, his predecessor as cantor at the Thomasschule, for similar collections of works for organ and harpsichord. The compositions are very varied in nature and, although the title suggests otherwise, were difficult to play. Bach addresses all the styles, genres and techniques for harpsichord and organ that were prevalent at the time, but then in the superior form to which only he had the patent.
Clavier-Übung I (1731) contains the six partitas, BWV 825-830; Clavier-Übung II (1735) the Concerto nach italienischen Gusto, BWV 971 and the Ouverture nach französischer Art, BWV 831; and Clavier-Übung IV (1741) the Goldberg Variations, BWV 988. The largest part, Clavier-Übung III (1739), is the only one devoted to organ, containing mostly chorale arrangements, or organ preludes based on Lutheran hymns. Bach made two versions of each chorale: one for great organ and one for a smaller type of organ. Most of the chorales refer to the six parts of the catechism. It is unclear whether Bach also played them during the services, or whether he developed his musical ideas in them for his own use, with no intention of performing them in public.
BWV

688

Title

Jesus Christus, unser Heiland

Instrument

organ

Genre

organ works

Serie

Clavier-Übung III

Year

1739

City

Leipzig
Extra videos
Credits
Release date

24 April 2015

Recording date

16 September 2014

Location

St Jacob's Church, Leeuwarden

Organist

Reitze Smits

Organ registration

Mayuko Banno

Organ

Christian Müller, 1727

Producer

Frank van der Weij

Film director

Jan Van den Bossche

Directors of photography

Diderik Evers, Ruben van den Broeke

Music production, editing and mix

Holger Schlegel

Film editor

Dylan Glyn Jones

Colorist

Jef Grosfeld

Production assistant

Hanna Schreuders

Interview

Onno van Ameijde

Acknowledgements

Rob Tigchelaar
Help us to complete All of Bach
There are still many recordings to be made before the whole of Bach's oeuvre is online. And we can't complete the task without the financial support of our patrons. Please help us to complete the musical heritage of Bach, by supporting us with a donation!