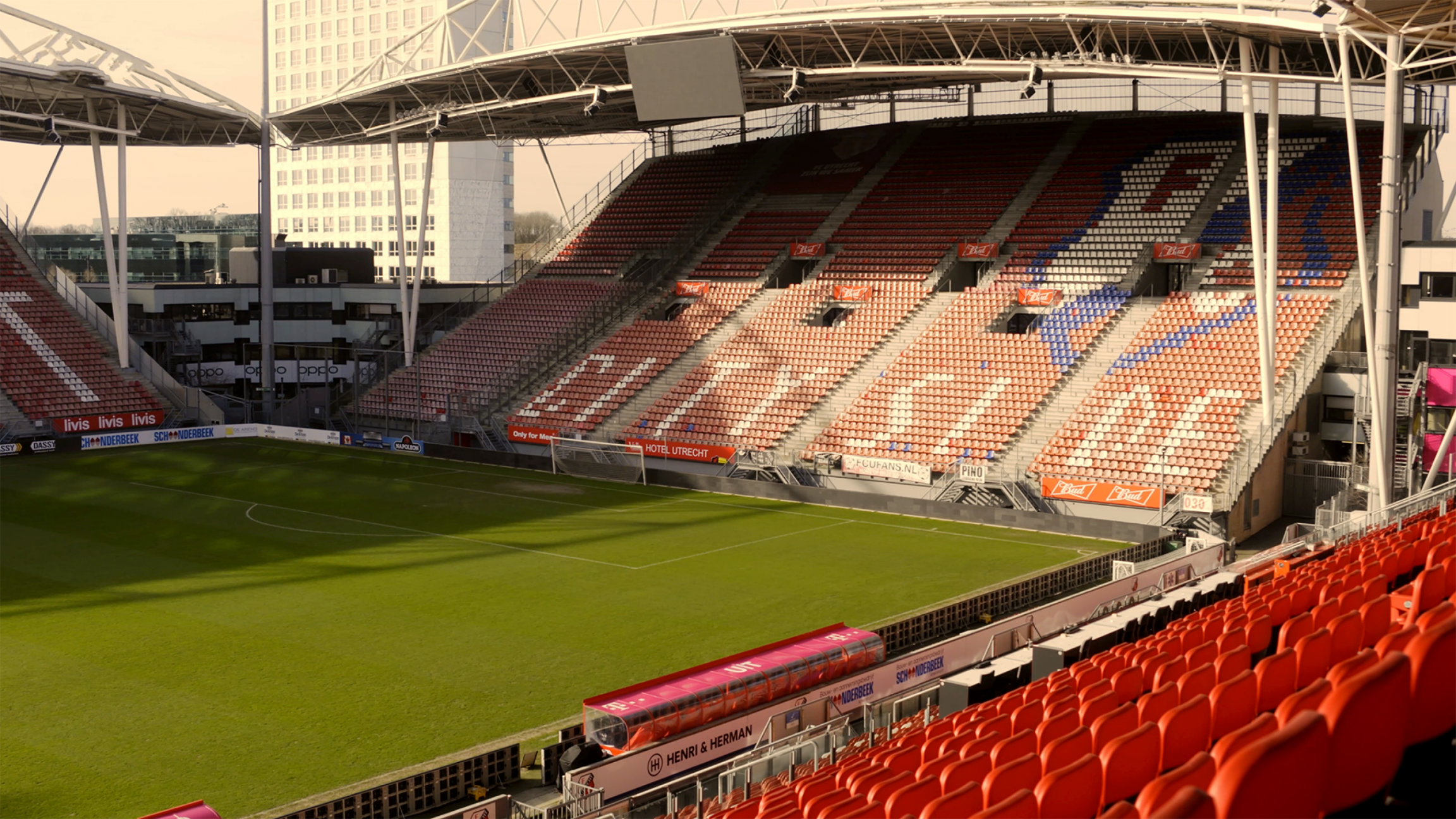 The Well-Tempered Clavier II No. 11 in F major
BWV 880 performed by Christine Schornsheim
at Stadion Galgenwaard, Utrecht
Story
Extra videos
Credits
Daring game
A grand prelude puts the listener on the wrong track.
There's improvisation, and then there's the prélude non mesuré: a typically French phenomenon originating from the lute repertoire, which has been baffling keyboard players and listeners since the seventeenth century. Composers left behind scores that are sometimes completely graphic, with chords and snatches of melodies, for which the performers themselves had to work out the rhythm. Although Bach was familiar with this enigmatic style, he would never leave his 'clients' to their own devices like that (or give them so much freedom).

However, this majestic eleventh prelude from the Wohltemperirte Clavier II could possibly be seen as an answer to his French colleagues. The long drawn-out lines, the numerous tied notes that create subtle dissonances, and a texture that continually swells and recedes, up to a total of five true parts, all point towards this. The long sustained notes in the bass give the prelude the allure of a chorale, albeit with an unusually large dose of flair.

This calmness is brought to an abrupt end by the fugue, with its chaotic effect of leaps and super-short motifs. To make it even more delightfully confusing, Bach tinkers with the rhythm in between the entrances of the second and third themes: a shift from six to apparently nine beats in the bar. The structure is anyhow curious and playful in equal measure, and almost accidental. A fugue usually follows a set pattern of exposition, various developments with and without the themes, and finally an often grand recapitulation, but here things are different. The construction of this fugue consists of the exposition with the themes, an exceptionally long episode based on just a couple of motifs, followed by the recapitulation – already halfway through the fugue. After that, we tumble through the keys, with the main key only reappearing just before the end – with eager virtuosity.

WTC II
We recorded Bach's first book of Preludes and Fugues in all the keys at the homes of 24 different musicians. For this second part, performed in its entirety by Christine Schornsheim, we chose 12 very different locations in Utrecht, to celebrate the 900th anniversary of our home city.
Das Wohltemperirte Clavier, BWV 846-893
Composing 48 keyboard pieces in all 24 keys was the sort of challenge Bach enjoyed. In each of the two parts of the Wohltemperirte Clavier, he brought together the musical couple prelude and fugue 24 times; twelve in minor keys and twelve in major. In the preludes, he gave free rein to his imagination, and demonstrated mathematical tours de force in the fugues. In contrast to the iron discipline Bach had to apply to his church compositions, here he could abandon himself to intellectual Spielerei without worrying about deadlines.
The first part of the Wohltemperirte Clavier dates from 1722, although it contains some music that was written in the preceding five years. There is less clarity about the history of part two. Bach compiled this second manuscript only around 1740, although once again some of the preludes and fugues it contains date from a much earlier period. Bach described the target group for this collection of pieces as follows: 'Zum Nutzen und Gebrauch der Lehr-begierigen Musicalischen Jugend, als auch dere in diesem studio schon habil seyenden besonderem ZeitVertreib' (For both the education of the industrious musical youngster and the enjoyment of those well-versed in this material').
BWV

880

Title

Prelude en fugue in F major

Epithet

no. 11 from the Well-Tempered Clavier II

Instrument

Harpsichord

Genre

harpsichord works

Serie

Das Wohltemperirte Clavier II

Year

1739-1740

City

Leipzig
Extra videos
Credits
Release date

24 January 2023

Recording date

13 February 2022

Location

Stadion Galgenwaard, Utrecht

Harpsichordist

Christine Schornsheim

Harpsichord

Bruce Kennedy, 1989 after Michael Mietke

Director, camera and lights

Gijs Besselaar

Music recording

Lilita Dunska, Pim van der Lee

Music edit and mix

Lilita Dunska

Camera, lights

David Koster

Assistant music recording

Marloes Biermans

Data handling

Stefan Ebels

Producer

Josine Olgers
Help us to complete All of Bach
There are still many recordings to be made before the whole of Bach's oeuvre is online. And we can't complete the task without the financial support of our patrons. Please help us to complete the musical heritage of Bach, by supporting us with a donation!