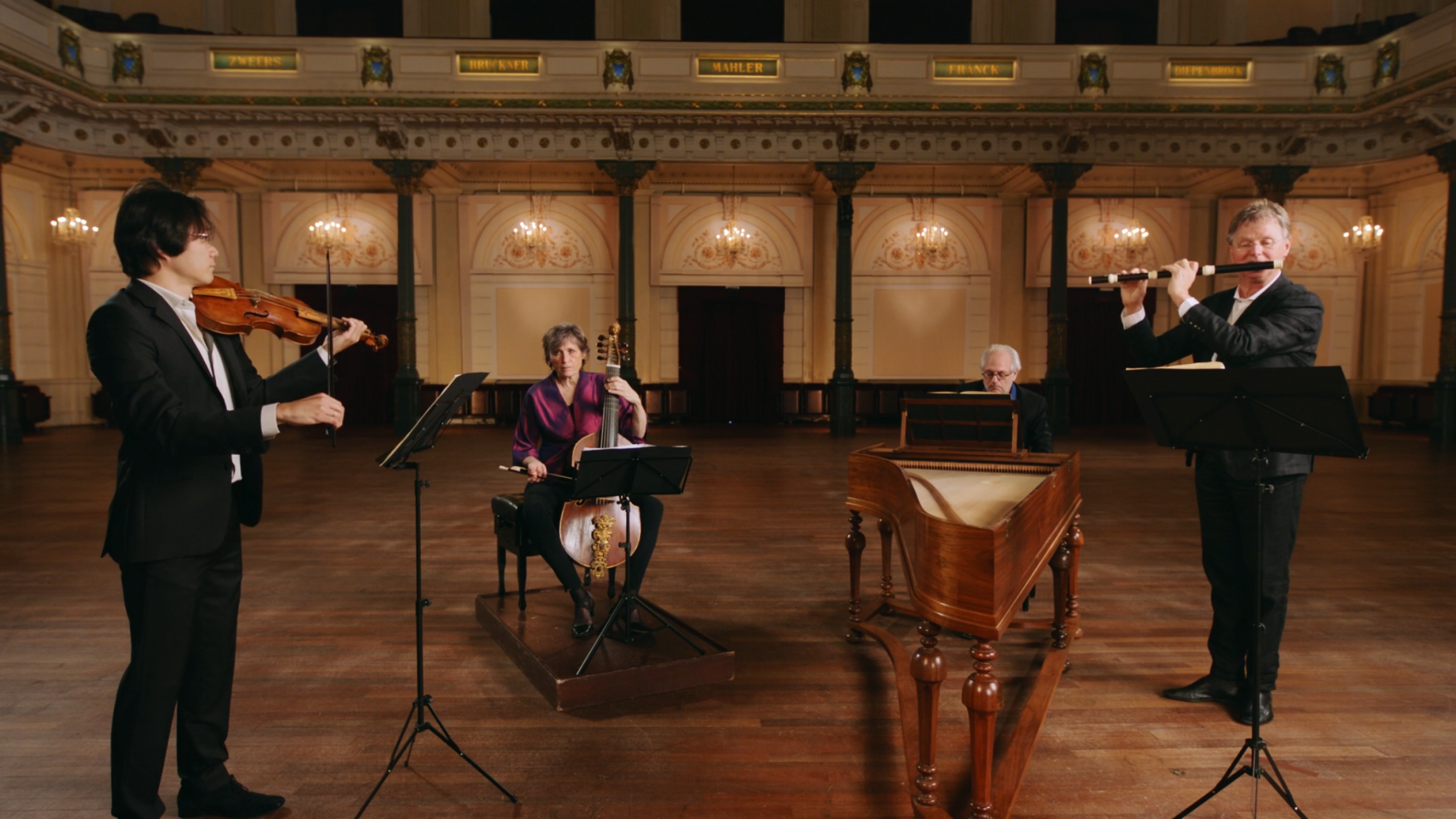 Sonata a traversa, violino e continuo from Musikalisches Opfer
BWV 1079/3 performed by Marten Root, Shunske Sato,
Mieneke van der Velden and Leo van Doeselaar
Het Concertgebouw, Amsterdam
Menu
1. Largo
2. Allegro
3. Andante
4. Allegro
Story
Extra videos
Credits
Tailor-made trio sonata
'Old Bach' demonstrates his mastery in a modern trio sonata.
Following his legendary visit to Potsdam, Bach returned home with King Frederick the Great's theme at the back of his mind. He had improvised a three-part fugue to it on the spot (the Ricercar a 3) and a very formal six-part fugue was still in the offing (the Ricercar a 6). But Bach felt he could do more with the 'soggetto reale' (royal theme). He wanted to use it in every possible way, ranging from rigorous counterpoint to post-Baroque galant forms. Anyone daring to call Bach 'old-fashioned' (and the flute-playing Frederick was apparently such a person) would therefore recognise that the composer of this piece was full of vitality and had his ears wide open.
In this Trio sonata for flute, violin and continuo, Bach hinted at the royal theme, rather than actually playing it in full. The bass line of the first movement gives a mere suggestion, while the chromatic lines in the fourth movement are reminiscent of the characteristic semitones. It is only in the second, fast movement that the unmistakeable 'thema regium' (royal theme) is heard, as a real 'aha' moment in the elegantly interwoven parts.
In the Andante, Bach wrote the instructions 'forte' and 'piano' by the echo effect in the music. This was exceptional for him, as he hardly ever gave such instructions, but it was very up-to-date – à la Quantz and Carl Philipp Emanuel (Bach's son). The extravagant melodies, rhythms, harmonies and endless 'sighs' are completely in line with their innovative Empfindsame Stil. Incidentally, the Bach Society musicians also bridge the gap between old and new, playing a modern fortepiano and an old-fashioned (or rather vintage) viola da gamba; instruments that were also played together in Potsdam.
With regard to style and instrumentation, the atypical Bach work would have sounded ideal at Frederick's daily private concerts. However, there is no trace whatsoever of a performance by the king himself. Maybe the flute part proved too much of a challenge for him?
Musikalisches Opfer, BWV 1079
The Musikalisches Opfer is a special collection of chamber music within the work of Johann Sebastian Bach, written for Frederick the Great of Prussia. Musikalisches Opfer means 'a musical offering', and that is precisely how the collection originated.
It all started in May 1747, when Bach went to Potsdam to visit his son Carl Philipp Emanuel, who was working at the court of Frederick the Great. Bach was introduced to Frederick, who had heard that Bach was a great improviser and asked him on the spot to improvise a fugue on a given theme (undoubtedly a first shot at the Ricercar a 3). According to the sources, Bach made a brilliant job of it and showed such enthusiasm about the 'royal theme' that he promised to have the fugue engraved 'on copper' and printed.
No sooner said than done. Two months later, Bach published a series of compositions: a trio sonata, a three-part and a six-part ricercar and ten canons, all inspired by the king's theme. Frederick was sent a splendid luxury print and Bach distributed his masterpiece among his friends, despite the high costs of printing. Incidentally, Bach himself did not call the collection Musikalisches Opfer, but rather Regis Iussu Cantio Et Reliqua Canonica Arte Resoluta (the theme given by the king, with additions, resolved in canonic style). The initials of this long title form the term ricercar, a name used at the time for an instrumental piece in which various themes are introduced and imitated.
Bach on the piano
For Frederick the Great, Bach played on a Silbermann fortepiano, which was a brand-new instrument at the time. Bach was enthusiastic about it and later acted as representative for Silbermann in Leipzig. So for the recording, we have also used a Silbermann fortepiano. Alongside this modern instrument, Shunske Sato has chosen to have the continuo played by a gamba; an instrument that also played a big role at the court of Frederick. 'Modern' instruments for the time thus play alongside 'old-fashioned' instruments, just as in the Musikalisches Opfer Bach combines the modern galant style with the counterpoint that was then considered old-fashioned.
BWV

1079/3

Title

Sonata a traversa, violino e continuo

Instrument

viola da gamba, traverso, violin, fortepiano

Genre

chamber music

Year

1747

City

Leipzig

Occasion

written for Frederick the Great

First performance

May 1747
With support from
Extra videos
Credits
Release date

25 November 2021

Recording date

6 July 2020

Location

Het Concertgebouw, Amsterdam

Traverso

Marten Root

Violin

Shunske Sato

Viola da gamba

Mieneke van der Velden

Fortepiano

Leo van Doeselaar

Director and editor

Onno van Ameijde

Music recording

Guido Tichelman, Bastiaan Kuijt, Pim van der Lee

Music edit and mix

Guido Tichelman

Camera

Onno van Ameijde, Jeroen Simons

Lights

Emile Groenewoud

Lighting assistant

Erwin Smit, Aden Zijp

Data handling

Stefan Ebels

Assistant music recording

Marloes Biermans

Producer film

Jessie Verbrugh

With support from

MWH4impact
Help us to complete All of Bach
There are still many recordings to be made before the whole of Bach's oeuvre is online. And we can't complete the task without the financial support of our patrons. Please help us to complete the musical heritage of Bach, by supporting us with a donation!